Kashi artist's gift to Sonu Sood, actor gave this answer
new Delhi. Bollywood actor Sonu Sood is constantly helping the workers in the midst of the Corona crisis. They are getting congratulations from all over the country. In such a situation, the art teacher of Kashi has thanked real life hero Sonu Sood and chef Vikas Khanna through his paintings.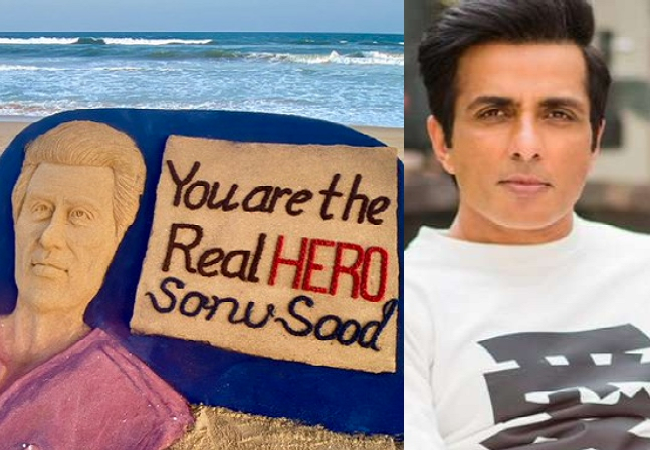 In fact, Priyanka Gaur, who hails from Hukulganj, has separately made pictures of Sonu Sood and Chef Vikas and written them thanks. Priyanka told that when people were troubled by the corona epidemic in the country, then both of them were engaged in helping the countrymen without saying anything. One was sending migrant workers to their homes by buses with bottles of water in hand on the streets of Mumbai, and the other was sitting in London to provide food for poor, hungry people.
We salute your noble deeds @SonuSood Ji. Even words are not enough to describe your help to the helpless during this #CoronaPandemic time. My SandArt at Puri beach in Odisha with Respect and Gratitude 🙏 pic.twitter.com/DFoLzS4wvc

– Sudarsan Pattnaik (@sudarsansand) June 1, 2020
The actor has so far helped thousands of migrant laborers and students to reach their homes. No money was taken from them. Chef Vikas Khanna distributed food packets to more than 8 million people, the largest food chain in India. Priyanka is working as an instructor in Higher Primary School, Adampur. He received his art education from Kashi Vidyapeeth.
People of Kashi will have to come to meet you now. ❣️🙏 https://t.co/o36auaFIVT

– sonu sood (@SonuSood) June 3, 2020
After this, Sonu Sood shared those pictures on social media and wrote, "Kashi Valo, now you have to come to meet people."