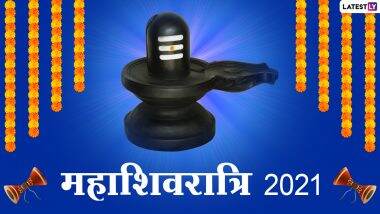 Mahashivratri 2021 (Photo Credits: File Image)
According to Hindu theology, Mahashivaratri fast and Shiva ji are worshiped on Chaturdashi of Falgun month. According to astrologers, Panchak is also being observed on this day. Let us know what work we should avoid doing on this Mahaparva. This year, Maha Shivaratri is falling on 11 March. According to the Hindu calendar, on this day, Chaturdashi will remain from 02.41 pm on March 11 to 03.03 minutes on March 12. According to astrologers, there will be Shiva Yoga on Mahashivaratri till 09.24 am, followed by Siddha Yoga, which will be till 08.29 am on March 12. Worship of Shiva by reciting mantras of Shiva is very fruitful. Panchak has been felt since morning on this day. It is not considered auspicious to collect wood, buy or build cots, make roof of house and travel in south direction during Panchak period.
Avoid doing this, when and what time will the quintet take
According to Hindu Panchang, starting from 09.21 am on March 11, the whole day on March 15, Panchak will remain till 04.44 am the next day. Read also: Mahashivratri 2021: Keep special care of these things in the fast of Mahashivratri, know what to do and what not to do on this day to get the blessings of Lord Shiva
Types of quintet
* Panchak starting from Sunday is called 'Rog Panchak'. Due to its effect, physical pain can be disturbed for the next five days. In this Panchak, you should not do any auspicious and auspicious work.
* Panchak starting from Monday is called 'Raj Panchak'. This Panchak is considered auspicious. As a result of this, success can be found in government work on all five days. In Raj Panchak, it is considered auspicious to do work related to property.
* Panchak starting from Tuesday is called 'Agni Panchak'. In these five days, the decisions of court-court etc. can be tried in their favor. In this 'Agni Panchak' there is a fear of fire. During this time, it is considered inauspicious to do any kind of construction work and machinery related work. They can be more prone to loss.
* Panchak starting from Wednesday and Thursday is considered auspicious. During this, there is more scope to get auspiciousness in the auspicious works started by observing the auspicious time. These days, auspicious activities like engagement, marriage can be done in the auspicious time.
* Panchak starting from Friday is called 'Chor Panchak'. According to astrologers, one should not travel in this Panchak, this Panchak should avoid money transactions, trade and other business activities, because the commercial work started during this time can give inauspicious results. There is a high possibility of loss in such works.
* Panchak starting on Saturday is known as 'Murti Panchak'. They are considered inauspicious. No risk should be taken during these five days. Due to its effect, there is a risk of dispute, injury etc.