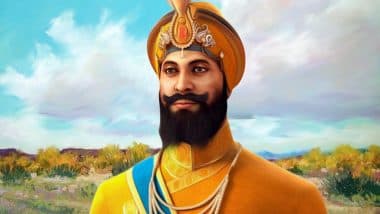 Guru Govind Singh (Photo Credits: Facebook)
The birth anniversary of Shri Guru Govind Singhji, the tenth Guru of Sikhs, will be celebrated with pomp across the country on 20 January 2021 this year. This festival is also known as 'Prakash Parva'. Gurugovind Singh is the tenth and last Guru of Sikhism and one of the most popular gurus. Significantly, he was the one who founded the Khalsa Panth. That is why the Sikh community celebrates this day with great respect, enthusiasm and enthusiasm. Come, learn interesting topics related to the establishment of Sikhism!
Confusion regarding date of birth!
There are many dilemmas regarding the date of birth of Guru Gobind Singh. The birth of Guru Gobind Singh Ji, the tenth Guru of the Sikhs, is said to be on 22 December, while according to the Gregorian calendar, his date of birth is 1 January. According to the Hindu calendar, his birth is celebrated on Vikram Samvat 1723, on the seventh day of Shukla Paksha of Pausha month. With this view, 354th birth anniversary of Guru Gobind Singh ji will be celebrated on 20 January in 2021 this year.
The divine birth of Guru Govind Singh!
Guru Gobind Singh's father is Guruteg Bahadur, and mother Gujri. In childhood, he was called by the name of Gobind Rai Singh. It is believed that when Guru Gobind Rai was born from the womb of Mother Nanaki in Patna, then father Guru Tegh Bahadur went to Assam and Bengal in connection with the preaching and preaching. It is said that at the same time when Guru Gobind Rai was born, a Muslim saint Fakir Bhikhan Shah was sitting in a tomb in his village in Karnal.
As soon as Guru Gobind Rai was born, the Muslim saint engaged in samadhi saw Prakash Punj. In this beam, he saw the reflection of a newborn child. Later the fakir told that a pir of God has descended somewhere in the world. He was none other than Pir Gobind Rai Singh.
Recognition of tenth guru
When Guru Gobind Rai was nine years old, father Guruteg Bahadur died. The Sikh community declared him their tenth guru. From a very young age Gurugobind Rai started contributing to the culture of Sikhism. He started the Khalsa order.
He gave a slogan, 'Vahe Guru Ji Ka Khalsa, Vahe Guru Ji Ki Fateh' Gurugobind Singh was also a great philanthropist, unique protector, divine poet of Veer Ras and a struggling warrior. In them, along with power, devotion and knowledge, the feeling of disinterest and upliftment of human society was filled with codification.
Establishment of Khalsa Panth
On the day of Baisakhi in the year 1699, Khalsa Panth was constructed. There is an interesting incident in this context, one day in a meeting of the Sikh community, he asked in front of everyone, who wants to sacrifice his head? A volunteer stepped forward. Gurugovind Singh took him inside the tent. After a while, the blood-soaked sword came out and asked again, is there anyone else. This is what he did with five volunteers. After a while Guru Gobind ji with the five volunteers came out and named him Panj Pyare (formerly Khalsa). Only after this, he was named Guru Gobind Singh from Guru Gobind Rai. Later, the Pancha Pyaras explained the importance of five kakaras i.e. hairstyle, comb, kadha, kirpan and kutcha
Guru Govind Singh Jayanti and Prakash Parva
On the day of Guru Gobind Singh's birth anniversary, people go to gurudwaras and participate in Shabad and Kirtan. Pray for peace and prosperity. On this occasion, Guru Gobind Singh ji recites poems filled with sacred sermons and heroic poetry. Those involved in satsangs with their teachings. That is why this day is known as Prakash Parv. Langars are organized in Gurudwaras, in which food is fed to all religions and classes. Guru Gobind Singh Ji, the creator of the Khalsa Panth, breathed his last on 7 October 1708.