Makar Sankranti 2021 Last-Minute Mehndi Designs: Make mehndi on palm in 5 minutes on Makar Sankranti, watch videos of arabic to traditional designs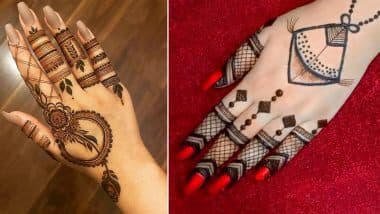 Makar Sankranti 2021 Mehndi Design (Photo Credits: Instagram / uniquemehendidesignbymonika and YouTube / Mehndi Web)
Makar Sankranti 2021 Last-Minute Mehndi Designs: Today (14 January 2021), Makar Sankranti is the first festival of the new year in the whole country. This festival of Lord Sun being Uttarayan is celebrated according to different traditions and customs in different parts of the country. It is believed that on this day Lord Surya is Uttarayan from Dakshinayan. With this, Sun God (Surya Dev) enters Saturn's zodiac sign Capricorn from Sagittarius on this day to meet his son Shani (Shani Dev). On this day, deeds like bathing, chanting, penance, charity and charity have special significance in the holy rivers. It is mainly considered as the festival of crops, so it has special significance even among the farmers. On this day dishes like Tilgud and Tilwandi are prepared. With this, women make henna on their hands.
If you have not yet got time to apply mehndi, do not worry. We have brought for you from Makar Sankranti Special Arabic to Makar Sankranti Special Mehndi Designs, which you can create on your palm in 5 minutes with the help of tutorial videos and along with the joys of this festival You can add beauty to the beauty of hands. ALSO READ: Makar Sankranti 2021 New Rangoli Ideas: From attractive Mugulu designs to Kalash, Phul and Uttarayan themes, create these attractive Rangoli
5 minute arabic mehndi design
Beautiful arabic mehndi patterns
Kite Wali Traditional Mehndi
Makar Sankranti Special Mehndi
Easy and beautiful design
Also read: Happy Makar Sankranti 2021 Messages: Happy Makar Sankranti! Send these WhatsApp Stickers, Facebook Greetings, Photos and Quotes to relatives
Finger Style Mehndi Design
Significantly, mehndi is considered a symbol of auspiciousness, which is a prosperity factor. Most Indian women definitely make mehndi in their hands on auspicious occasions like marriage, marriage and festivals. Most of the women love Arabic henna design because it takes very less time to make it. However, if you have not yet applied mehndi on your palm, then with the help of these tutorial videos, you can enhance the beauty of your hands in 5 minutes.