Makar Sankranti 2021: Don't forget to do this work on the day of Makar Sankranti!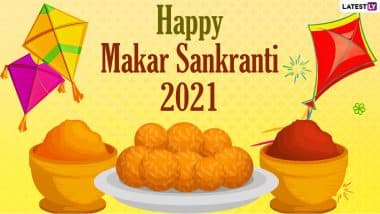 Photo Credits: Instagram
Makar Sankranti: With Makar Sankranti, where Suryadev changes direction and zodiac, enters Uttarayana and Makara from Dakshinayana, the days become bigger and the nights are shorter. Rabi crops are cut in the fields and preparations are made to sow Zayed crops in its place, even in the cold winter, a little heat starts coming. This day is considered to be a bath, charity, meditation and religion. It is believed that Goddess Lakshmi is pleased with charity, and there is happiness, peace and prosperity in your family. On this day, Suryadev goes to meet his son Shani. Therefore, on this day, every such action should be avoided, due to which Sun God is angry.
Let us know what are those things which should not be done on the day of Makar Sankranti.
* According to Hindu scriptures, without bathing, meditating and donating sesame seeds, one should not consume anything.
* Sadhus, monks or beggars who came home on this day should not be sent back without giving anything. By donating clothes, food, blankets and some currencies etc., one gets a lot of virtue.
* On the day of Makar Sankranti, stay away from narcotics like meat (eggs, meat, fish etc.) and alcohol, by doing this, aggression comes.
* Do not use anger or abuses on an old, poor or weak person.
* Onion and garlic should not be consumed on Makar Sankranti.
* Donation should not be given to such a person, who does not use the item properly.
* Donate new items according to your ability, do not donate torn-old clothes, old sweaters, stale food or old blankets. Also Read: Makar Sankranti 2021 Images & Wallpapers: Greetings on Makar Sankranti in the country, these beautiful GIFs, HD Photos, WhatsApp Stickers, Greetings
* On the day of Makar Sankranti, do not let the atmosphere of discord or disturbance arise in the house.
* Talk to anyone in sweet speech, do not accuse anyone.
* Do not consume food after sunset, Sun God is pleased by doing so.
* Donating only to a person who thinks of his interest does not benefit.
* Do not use Arhar dal in Khichdi on this day. Moong or Urad Dal should be consumed instead.
* If there is a river or holy lake in your city then take a bath there.
* Innocent animals and birds should not be disturbed.
* Spices should not be consumed in food.
* Donate only the items purchased with your own money, and should not be donated from wrongly earned income.
* One should not repent after donating.