New Pongal Rangoli Designs 2021 & Muggulu Patterns: Make beautiful Rangoli with dot and pot on crop festival Pongal, see the adorable designs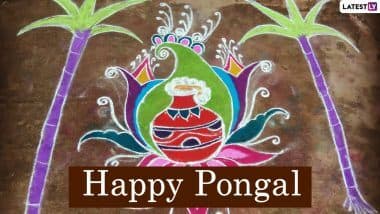 Pongal 2021 Rangoli Designs (Photo Credits: File Image)
New Pongal Rangoli Designs 2021 & Muggulu Patterns: Happy Festival of Harvest to Pongal to all of you! Most people decorate the main door of their house with Rangoli design and Maggulu Pattern on this auspicious occasion. Rangoli competitions are organized especially on this occasion in Tamil Nadu. Let us know that the festival of crops will start from January 14 and continue till January 17. Pongal, the major festival of farmers, is mainly celebrated in Tamil Nadu, Kerala and Andhra Pradesh. In fact, in Hinduism, making Rangoli in the house-courtyard on any special occasion is considered very auspicious. If you are looking for Pongal Rangoli Design, Pot Rangoli, Maggulu Design, Pongal Kolam Design on this occasion, then you are at the right place.
The festival of Pongal is celebrated in the joy of paddy harvesting and is celebrated on the first date of the Tamil month of Tai, which falls in the middle of January. This four-day festival is dedicated to Surya and Indra Dev. By worshiping these deities, the farmers pray for good rain and better harvest. The four-day festival includes Bhogi Pongal, Surya Pongal, Mattoo Pongal and Kanam Pongal.
Kolam or Rangoli is also known as Sankranti Maggulu which is an important part of celebrations.
Latest pongal kolam design
Also Read: Pongal 2021 Rangoli Ideas & Designs: Make Pongal's festival special with these adorable designs of pot kolam and dot rangoli (Watch DIY Videos)
Pongal 2021 Easy Rangoli (Watch Video)
Happy Pongal Rangoli Design
Maggulu Design for Pongal
Easy Pot Kolam Design
Pongal 2021 Kolam Design
Also read: Makar Sankranti 2021 Rangoli Designs: Beautiful Rangoli made on the main entrance of the house on Makar Sankranti, see the latest tutorial videos of latest designs.
Pongal Special Rangoli Design
Kolams are usually made with rice flour outside the doors of homes, so make the celebrations even more auspicious with these latest Pongal Pot Kolams, Dots Rangoli and Sankranti Maggulu patterns. This festival of Pongal brought a lot of happiness for all of you.