Makar Sankranti 2021 Ukhane in Marathi: Maharashtrian women can pick it up during turmeric-kumkum ceremony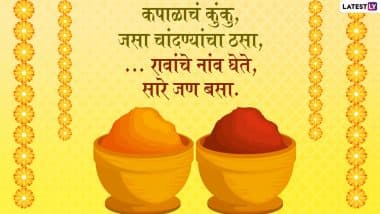 Makar Sankranti Special Marathi Ukhane (Photo Credits: File Photo)
Makar Sankranti 2021 Ukhane in Marathi: As soon as the new year starts, festivals have knocked. The festivals have started with the festival Lohri celebrated in many parts of the country including Punjab, Haryana. The festival of Lohri is celebrated with great fanfare a day before Makar Sankranti. So there for Maharashtrian people Makar Sankranti is the first festival of the new year and this festival is celebrated with great pomp by different names throughout the country. This festival is celebrated when the Sun enters Capricorn during Paush month. On this day, the Sun enters Capricorn, except Sagittarius. On Makar Sankranti, Kharmas end and auspicious work begins. From the day of Makar Sankranti onwards, auspicious works such as puja-archana, wedding ceremony and home entrance are done.
On the occasion of Makar Sankranti, Maharashtrian women organize a program of turmeric kumkum, in this ceremony, all the women gather and distribute good-til. She also says to each other. "Til gul ghya and gode gode bola" This means if the sweetness in the relationship remains like til gud. At the same time, in the turmeric kumkum ceremony, the woman picks up her husband's name. In particular, the tradition of pick-up is played by newly married couples, who are eager to listen. We have brought you easy and best Marathi Ukhane. After marriage, Suhagan calls the woman to his close friends, relatives at home. By applying turmeric, kumkum, they are called a small gift of suhagan i.e. (wan) in Marathi. At the same time, Til gives laddus of good, this laddus is specially made by women at home, after which it is requested to pick up newly married couples. Also read: Makar Sanskranti 2021: Makar Sankranti is the festival of giving donations and earning merit! Know which items are donated
Ukhane read:
Wetche kalachakra wandering night rituals kadhi punav kadhi avas
Ukhane read:
Gokula Sarakhan Sasar, all how Hoshi .. … Raananche naan ghate, Makar Sankrantichya Divashi.
Ukhane read:
Ticha Halwa Chandichya Vatit, …… .Ravancham Prem Hech Majhya Sukhach Gupit
Ukhane read:
New Year's first year
Ukhane read:
Majhya sansarala najar na lago kunachi …….
However, take the name of your husband in the empty space in the above ground and make the turmeric-kumkum ceremony special with these easy pickings. Many wishes of Makar Sankranti to all of you.