Haldi Kumkum 2021 Rangoli Designs: Create special with these beautiful designs of Rangoli in the ceremony of Haldi Kumkum, watch video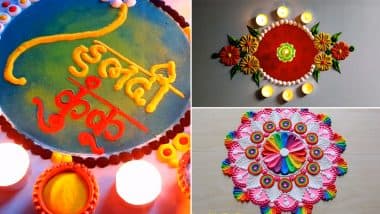 Fascinating Rangoli for Haldi Kumkum Festival (Photo Credits: YouTube)
Makar Sankranti, the Mahaparava of Uttarayana and charity of the Sun, will be celebrated on January 14 this year. The first festival of the new year is celebrated with great pomp across the country. Auspicious works begin on the day of Makar Sankranti. Makar Sankranti is considered the symbol of the end of the winter month and days begin to get longer from this festival. Makar Sankranti is celebrated in North India, Jammu and Kashmir, Punjab and Haryana, Tamil Nadu and Maharashtra in a spectacular manner. Makar Sankranti is celebrated in different styles in the country. In North India, it is celebrated as Lohri, in South India as Pongal. This festival is known as Uttarayan in Gujarat and Rajasthan. At the same time, during the Makar Sankranti in Gujarat, the sky becomes colorful with colorful kites.
On the occasion of Makar Sankranti in Maharashtra, Suhagan women make sesame and jaggery laddus in their homes. In turmeric kumkum ceremony, women wish one another luck by applying turmeric kumkum to each other. Turmeric gives kumkum a gift of suhagan to each other. Also play the game by traditional custom. Also, to increase the elegance of this festival, houses are cleaned. The houses are decorated for guest Nawaji. Also, to enhance the beauty of the courtyard outside the house, colorful rangoli are made. Generally, making Rangoli on any special festival is considered very auspicious and Rangoli increases the auspiciousness of the festival. You can also decorate the beautiful design of Rangoli outside your house, so we have brought for you videos of attractive and adorable Rangoli designs, with the help of which you can make these designs of Rangoli very easily. Read also: Makar Sanskranti 2021: Makar Sankranti is the festival of giving charity and earning merit! Know which items are donated
1- Make these Rangoli designs with two colors
2- Special Rangoli for Haldi Kumkum Design
3- Special Rangoli Pattern for Haldi Kumkum
4- Special Rangoli Design for Haldi Kumkum
5- Easy rangoli designs for haldi kumkum
In Haldi Kumkum ceremony, you can make Rangoli designs at the courtyard, corner and main door of the house. Rangoli makes four moon in any festival. The most important thing is that you can easily make these Rangoli designs shown in the video and in a very short time.