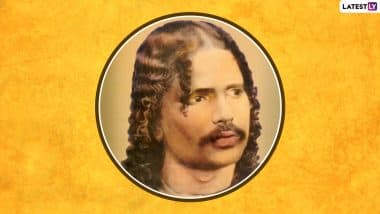 Bharatendu Harishchandra, the grandfather of Hindi literature (File Photo)
The country is remembering him today on the death anniversary of Bharatendu Harishchandra, the father of modern Hindi literature. The beginning of the modern period in Hindi literature is considered to be from Bharatendu Harishchandra. He adopted the land of healthy tradition and sowed the seeds of innovation, leaving the nutritious practices of the perverted feudal culture of Reetikal. He took steps towards making Hindi a national language as a national language. Bharatendu Harishchandra had said, 'Nijha Bhasha Unnati Aahe, all the advancement is original, without knowledge of language, mittan na hai ke sool' means that the advancement of mother tongue is not possible without the progress of any society and mind without knowledge of its language. It is also difficult to overcome the pain of
Bharatendu Harishchandra was rich in versatility. Bharatendu Harishchandra devoted his life to the development of Hindi literature and made major contributions in the field of journalism, drama and poetry. He used Hindi theater cleverly during the British rule, his play Andher Nagari is a perfect example of this. He also used his writing to shape public opinion. He was an outstanding poet, strong satirist, successful playwright, conscious journalist.
He was remembered by politicians on the death anniversary of Bharatendu Harishchandra. Education Minister Ramesh Pokhriyal Nishank wrote in his tweet, "Blessings on the death anniversary of Bharatendu Harishchandra ji, the father of modern Hindi literature, the pioneer of Indian Renaissance". Bharatendu Harishchandra's compositions are classics. He has shown a mirror of the society of that time in his compositions.
Bharatendu Harishchandra was born on 9 September 1850 in Varanasi, Uttar Pradesh. His father Gopalchandra was also a good poet. He inherited poetic talent from his father. He spent his life in hardship and he raised his voice for the upliftment of the society. He was 5 years old when his mother had become a father's shadow at the tender age of ten years. In this way, they were deprived of the happiness of parents in childhood.
Bharatendu Harishchandra's specialty was that while he wrote poems on ancient subjects like devotion to God, he also adopted topics like social reform, national love. His works reflect the opposition of British rule, the longing for freedom and the feeling of caste. He constantly tried to spread modern consciousness in the society.