Mokshada Ekadashi Pujan Vidhi: Worship Lord Vishnu on the day of Mokshada Ekadashi, learn what is the ritual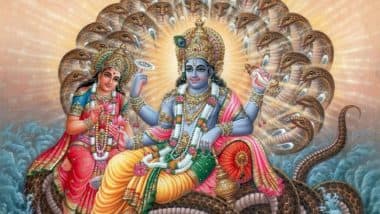 Lord Vishnu (Photo Credits: Facebook)
Mokshada Ekadashi Puja Vidhi: Ekadashi Tithi (eleventh day) of Shukla Paksha is very important in Margashirsha / Agrayan month. This Mokshada Ekadashi fast is considered superior among all the fasts. It is believed that Lord Krishna himself told Dharmaraja Yudhishthira and Arjuna about the great moon of Ekadashi fast. It is known as Mokshada or Vaikuntha Ekadashi. It is said that the doors of Vaikuntha (Vaikuntha Gate), the heavenly abode of Lord Vishnu, remain open on this day. Apart from this, Lord Vishnu is worshiped for those who want to attain Moksha (Moksha- rid of the vicious cycle of birth, death and rebirth) and get rid of their sins. Hence its name is Mokshada. For this, the devotees keep a day's fast and worship, then break the fast the next day. Learn the Muhurta and worship method of this Mokshada Ekadashi fast.
Muhurta of Mokshada Ekadashi fast: –
Ekadashi Tithi starts – 24 December night from 11 to 17 minutes
Ekadashi date ends – December 25 late at 1.54 pm
Also Read: Lala Ramswaroop Calendar 2021 for Free PDF Download: According to Lala Ramswaroop Ramnarayan Panchang, see the complete list of New Year fasts, festivals and holidays here
Know what is Vaikuntha Ekadashi Puja Vidhan: –
Ekadashi fasting is considered as one of the most difficult fasts. The fast of Ekadashi starts from the date of Ekadashi and ends on the day of Dwadashi only after the observance of the fast. Rules should be followed in this fast. The fast should be resolved before starting the fast on Ekadashi on 25 December. For bathing, people bathe in holy rivers like Ganges, Yamuna etc., but if this is not possible, take Ganges water and bathe in water. After bathing, wear a clean cloth. Sanctify the worship site by sprinkling Gangajal and bathe Lord Vishnu with Ganga water. After this, offer Roli, sandalwood, Akshat etc. to the Lord. In the temple area of ​​your home, light an oil lamp and do meditation. After decorating with yellow flowers on this day, offer it to the Lord.
Om Namo Bhagavate Vasudevaya – Chant the Mantra.
Offer Basil leaves to Lord Vishnu. Invoke Lord Vishnu and seek his blessings. After this, perform Aarti of Lord Ganesha, Lord Vishnu and Mother Lakshmi. Offer water, sandalwood paste, vermilion, raw rice with turmeric (Akshat), natural smell, flowers, basil leaves, incense, lamp. Offer kheer or pudding or any other sweets and offer it to Lord Vishnu. You can also offer fruit, two browns, betel and betel nut and a brown coconut with husk in Dakshina.