Christmas 2020 Best Gift Ideas: Make Christmas festival special for your loved ones with these great gifts, see the best gift ideas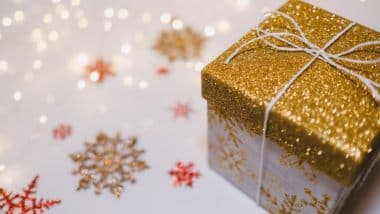 Christmas 2020 Gift Ideas (Photo Credits: Unsplash)
Christmas 2020 Best Gift Ideas: Christmas is such a festival, which everyone eagerly waits for the whole year. This festival, celebrated in December, is celebrated with pomp across the world. This festival comes at a time when the year is very close and the new year is about to begin. To celebrate the Christmas festival, people bring Christmas trees to their homes and decorate them with decorating items. Apart from this, people organize feast for their friends and loved ones. On this day, people meet each other and celebrate this festival together. Some people also exchange gifts to make this festival memorable.
Celebrate the festival of Christmas in joy of the birth of Jesus Christ. On this day people give gifts to their near and dear ones to express their love. If you also want to make this festival for your loved ones, then we have brought for you some best gift ideas, which you can take help from.
1- Cakes and Cookies
If you want to give special gifts to your friends or loved ones, then on Christmas you can give them cakes, cookies, goodies and bakery biscuits of their choice. If you want, you can take it from the market or you can also order online. Also Read: Merry Christmas in Advance 2020 Wishes: Merry Christmas in Advance! Send these great Hindi WhatsApp Stickers, Facebook Messages, GIFs and images to loved ones
2- Basket
Giving a goodie basket on Christmas can be a great option for loved ones. In this basket, you can give items like centric candles, keychains, cakes, books and give them as gifts.
3- sent candles
Candles have special significance on Christmas. Actually, the lighting of candles and its fragrance make the atmosphere happy in this festival. This can be a great option to give to family and friends over Christmas.
4- Decorative Lantern
On Christmas, people decorate their homes, in such a way, if you want to give Christmas gifts to someone, then you can give decorative lanterns. These days Decorative Lantern is very much in trend. You can give this gift to your loved ones by becoming a secret Santa. Also Read: Christmas 2020 Decoration Hacks: From Xmas Tree Light to North-pole Inspired Decoration, Watch Easy Ways to Decorate for Christmas (Watch Videos)
5- Plants
If you or someone close to you is a nature lover, then you can gift them plants on the special occasion of Christmas. You can also give an air purifying plant as a gift or as a plant decorating the drawing room.
It is important to note that apart from these gifts, you can give gifts taking care of your and your loved ones' preferences. However, we hope you will like these Christmas gift ideas and you can choose any of these options to bring a smile on your face.