Kharmas 2020: know what is auspicious time to buy land, house, office or vehicle in Kharmas, what to do and what not to do this month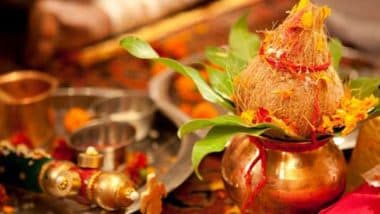 Pooja / Symbolic Photo (Photo Credits: File Photo)
Kharmas 2020: Kharmas has started from 15 December 2020, which will remain till 14 January 2021. According to Hindu beliefs, no auspicious work of any kind will be done in Kharmas month. But many people understand that no new works can be done in Kharmas. According to astrologers, only Mangal work, such as the sacrament rites, Yagnopavit rites, Mundan rites, and home entry and home worship are prohibited in Kharmas. Detailed information can be obtained from any astrologer on this subject. But in Kharmas, there is no restriction on buying property or special items as auspicious work. For which there are inherent auspicious times. Come, know on what day are auspicious time for purchasing property or new item.
Significantly, the month of Kharmas starts with the Sun entering Sagittarius. In Hinduism, there is a ban on Manglik works for this one month, although business works run smoothly this month. For example, purchase or sale of land, new house, office, factory, or vehicle and transaction can be done. However, the purchase or use of jewelery or home-use items should be avoided. If you want, you can get these items booked etc. Now let us see what auspicious times are being made for this new business in vehicles and land.
Also read: December Festival Calendar 2020: See the complete list of festivals and fasts falling in the month of December
Auspicious time to buy and sell vehicles
20 December 2020 Sunday
27 December 2020 Sunday
30 December 2020 Wednesday
01 January 2021 Friday
06 January 2021 Wednesday
08 January 2021 Friday
Auspicious time to buy and sell land
31 December 2020 Thursday
03 January 2021 Sunday
04 January 2021 Monday
08 January 2021 Friday
09 January 2021 Saturday
12 January 2021 Tuesday
Auspicious time to start business
24 December 2020 Thursday
27 December 2020 Sunday
What to do in kharmas
Kharmas month is considered very good for religion, charity, chanting and meditation. This month, donations made with true faith and dedication result in a thousand-fold fruit. Along with this, the service of Brahmins, Gurus, Cows and Sadhus and Sanyasis in Kharmas month also has special significance. Pilgrimage to holy places in the month of Kharmas is also considered auspicious. If the atmosphere is not going for the pilgrimage, then the special poojas in the house, for example, Bhagwat Gita, Akhand Ramayana Path, Akhand Kirtan, Shri Ram Puja, Satyanarayana Katha, Srihari and Lord Shiva are also considered auspicious.
Also Read: Vivah Panchami 2020 Messages: Greetings to loved ones through these Hindi WhatsApp Stickers, Facebook Greetings, GIF Images on Vivaha Panchami
Traditional legend of Kharmas
Khar means ass in Sanskrit word. According to the legend prevailing in the context of religious texts Kharmas, once the Sun God rode on his seven horse chariot and went out to revolve around the universe. He was prohibited from stopping or staying anywhere in this orbit of the universe. According to the belief, all the activities of Brahmand would stop till their stay or stay. But his horses got thirsty while walking continuously. Seeing the pitiful condition of horses, Sun God became worried. He forgot all the limitations and took the horses to a reservoir, so that by drinking water, the thirst of the horses would be quenched and there would be time to rest for two moments. But then he realized that with the stopping of the horses, there would be great loss in the entire universe.
Then he saw two donkeys standing near a reservoir, Surya Dev stopped his horses for some time and added two scratches in their place, so that the chariot would continue continuously. However, the speed of the chariot slowed when the chariots were made by donkeys instead of horses. After resting the horses for a while, he again freed the donkeys by attaching their horses to the chariot. It is said that he was pulling the donkey to the chariot of the sun god, that was the time of a whole month, due to which it was named Kharmas. Since then, this sequence of Suryadev has been going on, and every solar year a solar month i.e. Kharmas comes.