Vitamin D and Coronavirus: People are worried about vitamin D deficiency in Corona era, know what are the experts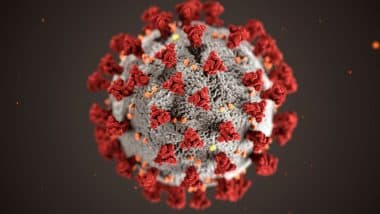 Corona Virus (Photo Credits: Unsplash)
In view of the increasing cases of corona in the country, people are taking various kinds of supplements, in such a situation, we talked to Dr. Narendra Saini, health expert and former Secretary of IMA, on how helpful. He told that waiting for vaccine is one thing, but do not get caught in any kind of medicines. Also, he gave important information about the importance of Vitamin D.
Here are Dr. Saini's answers to questions related to Corona:
Will everything be okay once the vaccine arrives?There is information about vaccine coming, but it is difficult to say when it will come. It is being hoped that it will come by January-February, but till then there is no need to follow the rules. Even after the vaccine is introduced, the virus will not have to be infected to wear a mask and follow a safe distance.
In how many days symptoms occur when infected?
The incubation period in Corona lasts for 2-14 days. If infected, symptoms occur during this period. However, it is not necessary that everyone should see symptoms. If someone's immunity is good then the virus is not able to affect the body and then it is not able to grow inside the body either. It ends slowly in a few days. When it grows rapidly, it affects different people in different ways, and then the symptoms are seen.
Under what conditions is Favipiravir given to people?
Under the guidelines of WHO, ICMR, Favipiravir or Remdesvir, etc. medicines are not given to all. Doctors give these medicines only to those who need them, as these medicines are also at the trial stage. As of now there is no corona medicine, so do not get caught in the medicine, to keep your immunity, eat fresh food, fruits, green vegetables etc. and make a mask.
In the Corona era, people are worried about vitamin D deficiency, what will they say?
Vitamin D is important for the body but not always for avoiding corona. Earlier there was no deficiency of vitamin D in people because people used to sit in the sun, they used to get sunlight on their outing, but now there is a change with time. Most of the time, people stay indoors or in the office and go out in the evening. Because of this, they do not get the right amount of vitamin D. It is better to spend time in the sun than taking supplements for vitamin D.
How much protection does glavs provide in protecting against viruses?
Gloves are not as effective in protecting the virus, because if the common man wears gloves and touches his nose, mouth or eye after touching a surface with that hand, then the virus can enter the body through gloves. Not every man needs to wear it. Hand washing is enough.