Vaikuntha Chaturdashi 2020: When is Vaikuntha Chaturdashi? If you worship with 1000 lotus flowers, you get Baikuntha Dham, know auspicious time, worship method, importance and traditional story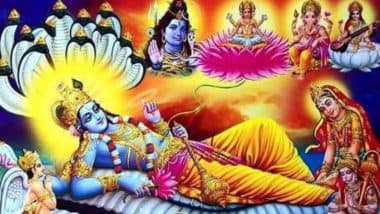 Lord Vishnu (Photo Credits: Instagram)
Vaikuntha Chaturdashi 2020: According to Hindi Panchang, Vaikuntha Chaturdashi (Vaikuntha Chaturdashi) is celebrated on the day of Chaturdashi of Shuklapaksha of Kartik month. It is believed that on this day, the devotees who worship and fast on Srihari (Lord Vishnu) get Baikunth Dham (Baikunth Chaturdashi). It is mentioned in the Shiva Purana that Srihari first worshiped Lord Shiva after waking up from yoga and sleep on the day of Dev Uthani Ekadashi, when Lord Shiva was pleased with the worship of Shrihari and gave him the perfect Sudarshan Chakra. According to the English calendar this year, Baikuntha Chaturdashi is falling on 28 November. Come, know the greatness of this fast, Puja Vidhan, auspicious time and the traditional fast story of Vaikuntha Chaturdashi.
Mahatmya of Vaikuntha Chaturdashi
In Hindu scriptures, Baikuntha Chaturdashi is considered to have special significance. It is believed that a person who gives up his body on this day directly receives heaven. On this day there is a tradition of worshiping Lord Shiva and Shrihari together. Scholars believe that by doing this, all kinds of sins and sufferings are destroyed. It is believed that on this day both Lord Shiva and Shrihari are in a form. On this day, a person who worships Shrihari with 1000 lotus flowers gets a place in the family Baikunth Dham after death.
It is believed that during the Mahabharata period, Shri Krishna had performed the Shraddha of the warriors killed in the war on the day of Baikuntha Chaturdashi, therefore, it is considered to be auspicious on this day. The attainment of Baikuntha Dham is attained only by the person of virtue, divine person or Satkarma, but if a person observes the fast and worship rituals of Baikuntha Chaturdashi with full devotion and devotion, he also easily receives Baikuntha Dham. . Also read: Dev Diwali 2020: When is Dev Diwali? Know the auspicious time and significance of this festival celebrated on the day of Kartik Purnima
auspicious time
Baikuntha Chaturdashi starts 10.22 pm (28 November 2020)
Baikuntha Chaturdashi ends 12.48 pm (29 November 2020)
Baikunth Chaturdashi Nishith Kaal 11.39 am to 12.32 pm
Law of worship
On this day, a person doing rituals with fasting should wake up in the morning and bathe in Ganga ji or any other holy river or lake and wear clean clothes. After this, wash a garrison on the auspicious time and sprinkle Ganga water on it, and place a yellow posture on it. Now first install the statue of Shree Ganesh, Lord Shiva and Shrihari on this posture. First of all the three idols should be bathed with panchamrit then Ganga water. Now light the incense lamp and first invoke Ganesha with Ganesha praise. Now offer 1000 lotus flowers to Srihari. If such quantity of lotus flower is not available then at least one lotus must be offered.
After this, tilak them with sandalwood, as well as offer Tulsidal to Srihari. Keep in mind that do not forget Lord Ganesha and Lord Shiva as a basil party. Now offer prayers to Lord Shiva and Shrihari in a proper way. Offer khichdi, ghee and mango pickle in the prasad. Now read or listen to the traditional story of Vaikuntha Chaturdashi with red flowers and Akshat in hand. Finally, perform the aarti of Lord Ganesha, Lord Shiva and Shrihari. Also Read: Kartik Purnima 2020: When is Karthik Purnima? Why donation-bath is of most importance on this day, know the auspicious time and mythology related to it
The traditional story of Baikuntha Chaturdashi
Once Shrihari came to Kashi city to worship Lord Shiva. Lord Vishnu started worshiping Lord Shiva with 1000 lotus flowers to Lord Shiva at Manikarnika Ghat in Kashi. Lord Shiva reduced one of the 1000 golden lotus flowers for the examination of Shrihari. When Shrihari started offering those flowers, one flower came out of it. Srihari noticed that people also worship him by the name of Kamal Nayan. Srihari proceeded to offer his one eye to Shiva instead of a lotus flower, when Shiva prevented him from doing so.
He was very pleased with the devotion of Shrihari and presented him with the Sudarshan Chakra equipped with crores of radiance. Incidentally, that day was the day of Chaturdashi of Shukla Paksha of Kartik month. Shivji also gave a boon to Srihari that any person who will fast and worship Baikuntha Chaturdashi on this day will get Baikuntha Dham after death. It is believed that for all devotees who earn virtue, the attainment of Baikuntha Dham is the best salvation.