Tulsi Vivah 2020: Do Tulsi marriage with these Ashta Mantras to get rid of constant problems in life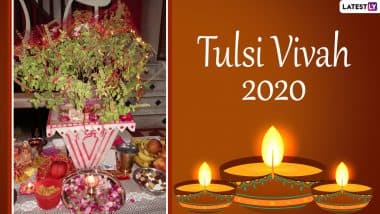 Tulsi Vivah 2020 (Photo Credits: File Image)
Tulsi Vivah 2020: According to Sanatan Dharma, there is a tradition of Tulsi getting married to Lord Shaligram (Tulsi Shaligram Vivah) on the same day when Devrihani Ekadashi (Dev Uthani Ekadashi) means Lord Shri Vishnu. It is important to note that from the Ekadashi of Shrihari Ashada Shuklapaksha to the Ekadashi of Kartik Shuklapaksha, he is absorbed in yoga and sleep for relaxation. According to Hindu belief, no manglic work is done in this Chaturmas. This year, the four-month chaturmas were for a period of five months due to Adhimas. Actually, the day Shrihari wakes up from his yoga sleep, it is called Devauthani Ekadashi. On this day, after Tulsi Vivah, clarinet starts ringing in Hindu homes. There is great glory of Tulsi marriage in our scriptures. Whatever the devotee does on this day, after offering Tulsi Dal to Shrihari, performs the marriage of Shri Shaligram Tulsi with 8 Ashta Mantras in the scriptural method, all his sufferings and sins are eradicated and he also gets the special grace of Shrihari.
When is Tulsi marriage?
According to astrologers, a Tulsi wedding is organized on the Ekadashi of Shukla Paksha of Kartik month, but in some places there is also a recognition of Tulsi marriage on the day of Dwadashi. The Tulsi marriages will be organized on Ekadashi on 26 November this year due to manipulation of the dates. While Tulsi marriage on Dwadashi day, Tulsi marriage can be done on November 27. On this day Goddess Tulsi is married to Lord Shaligram after offering sixteen adornments and the ingredients of Suhag. It is believed that if there are incessant or unpleasant incidents happening in life, then 8 Mangalashtak Mantras should be recited in the marriage of Lord Shrishalagram and Tulsi at Godhuli Bela. This removes the obstacles faced in life again and again, along with increasing food grains, strength, wealth growth, happiness, seasonal behavior and friendship in life, all problems are removed, along with bestowing. Virtuous virtue is attained. Since Tulsi marriage is like a marriage, it would be better if husband and wife sit together in this puja and get Tulsi marriage done. Also Read: Tulsi Vivah 2020 Rangoli Designs: Create beautiful, attractive and unique Rangoli designs to make Tulsi marriage special, watch latest videos (Watch Videos)
This is how to use Mangalashtak mantras
After decorating the basil plant, at the time of dusk, take a little rice in a clean bowl and mix it in a thin solution of turmeric and make it yellow. After this, duly worship Goddess Tulsi and Shri Shaligram. Now offer flowers while pronouncing all the 8 mantras written below with clear words as well as praying to remove all the pangs of mind while chanting each mantra.
1- ॐ Shri Matpankajavishtro Hariharau, Vayamarhendroanhal:
Chandro Bhaskar Finance Officer Varun, Pratadhipadigraha
Pradyamno nalqbaurau surgajah, chintamani: kaustubhah,
Swami Shaktidharshta Langaldhar: Kuwarntu Woh Mangalam
2- Ganga Gomtigopatigarnapati: Govindgovadhornau, Geeta Gomayagorjou Girisuta, Gangadharo Gautam:
Gayatri Garudo Gadadhargaya, Gambhirgodavari, Gandhavragrahagopgokuldhara: Kuvruto V Mangalam
3- Netranā त्रa trītāya mahatpushupateh: agnestu padatrayam, tattadvishnupadatrayam tribhuvane, khyānta ramātrayam.
Gangavahatapatharayam Suvimalam, Vedatrayam Brahmanam, Sandhyanand Tritayam Dwijairbhimantam, Kuvartu Wo Mangalam
4- Balmiki: Sanak: Sanandanamuni: Vyasovasistho Bhriguha, Jabaljirmadagniratnajakau, Gargo Gir Gautama.
Mandhata Bharato Nrushpas Sagro, Dhanyo Dileepo Nalah, Punyo Dhamarsuto Yayatinhushou, Kuvrantu Wo Mangalam
5- Gauri Srikuladevata Ch Subhaga, Kadrusupanarashivaha, Savitri Ch Saraswati Ch Surabhih, Satyavratarundhati.
Swaha Jambavati Ch Rukmabhini, Nightmare Varvidhvansini, Vela Chambunidhe: Saminamkara, Kuvrantu Wo Mangalam.
6- Ganga Sindhu Saraswati Ch Yamuna, Godavari Namarda, Kaveri Sarayu Mahendranaya, Chamarnwati Vedika.
Shipra Vetravati Mahasuranadi, Khyata Ch or Gandaki, Poorna: Punyajalai: Samudra Sahitaha, Kuvrantu Wo Mangalam.
7- Lakshmi: Kaustubhaparijatakasura, Dhanvantarishchandra, village: Kamadugha: Sureshwargajo, Rambhadidevangana.
Ashwah: Saptamukh: Sudha Haridhanuah, Shankho Vishman Chambudhe, Ratananiti Chaturdarsha everyday, Kuvrantu Woh Mangalam.
8- Brahma Vedapati: Shiva: Pashupati: Suyor Grahanam Pati: Shukrao Devapatinarlo Narpati: Skandash Senapati.
VishnuYargyanpatiyarmah Pitrapati: Tarapatischandra, Itetay Patyasupanarsahitaha, Kuvrantu wo Mangalam. Also read: Tulsi Vivah 2020: Tulsi-Shaligram how to decorate basil pot for marriage, see easy and traditional ways of decoration
After the marriage of Tulsi, sit there and recite these 8 mantras for freedom from troubles and troubles. If you are not able to pronounce the mantras correctly, then you can take the support of a priest for this, the recognition will not be fulfilled by the flawed chanting.