Dev Uthni Ekadashi 2020: Today is Devuthani Ekadashi, on this auspicious occasion, awaken Lord Vishnu with this mantra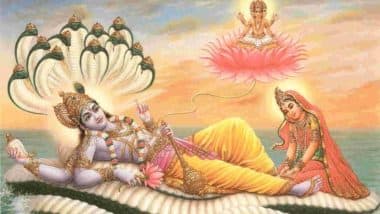 Devauthani Ekadashi, (Photo Credits: Facebook)
Dev Uthni Ekadashi 2020-Hindu Festival: Today all over the country Devauthani Ekadashi Is being celebrated him Prabodhini Ekadashi Also says. On this day, Lord Vishnu wakes up from yoga sleep after four months. There is an atmosphere of happiness around them when they wake up. In Hinduism, we celebrate the joy of Lord Vishnu in different ways. On this day, the new sugarcane crop also comes in the market to sell. Devauthani Ekadashi Eating sugarcane on the day is considered very auspicious. All the auspicious work and marriage auspicious begin with Devuthani Ekadashi. This festival falls on the Shukla Paksha of Kartik month. On this day, Goddess Lakshmi also worship Tulsi along with Lord Vishnu.
On this day, all the gods along with Lord Vishnu wake up from sleep. GiveVauthani Ekadashi On the day of the Lord, wake up by saying special mantras to awaken Lord Vishnu. On this day, fruits, berries, radishes, carrots, bananas, water chestnuts etc. are offered to Lord Vishnu in worship. It is said that Singhada is the favorite fruit of Mata Lakshmi, Mata Lakshmi is pleased by offering it. Banana is offered to Lord Vishnu as it symbolizes growth and prosperity.
Chant these mantras to awaken God:
Uttistha Govind Tyaj Nidran Jagatpatye. Tvayi Supte Jagannath Jagat Suptam Bhavedidam
Uttheta Chestate Sarvamuttishottistha Madhava. Gatamegha Viachaiva Nirmal Nirmaladishsh॥
Sharadanchi Pushpani Grihaan Mama Keshav.
On this day Lord Vishnu wakes them up by saying, 'Arise God to us, Arise favored us'. On this day, awaken Lord Vishnu with the source text, conch, bell sound and bhajan kirtan.
Worship method:
Draw the shape of Lord Vishnu's feet in or out of the courtyard of the house.
Draw Lord Vishnu from ocher in an Okhli.
Now keep fruit, sweet singhara and sugarcane near Okhli. Then cover it with a basket.
Light the lamp outside the house and at the place of worship at night.
On this day all members of the family should worship all the gods including Lord Vishnu.
All the auspicious works begin after Devauthani Ekadashi, many people wait for the Muhurta of Devauthani Ekadashi throughout the year, whatever works are done on this day are successful.