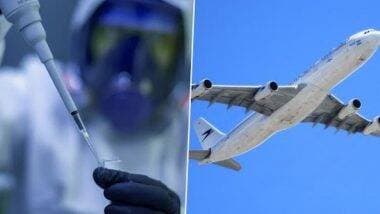 Photo Credits: Pixabay
Vaccine Tourism: The whole world is battling the Coronavirus Pandemic and all the countries of the world are engaged in developing vaccines against it. Meanwhile, Vaccine Tourism has suddenly come into the limelight. In fact, in the last few years, medical tourism has become a very popular term, where travelers go abroad for their health care procedures. Tourism experts believe that vaccine tourism will be one of the biggest travel trends in the year 2021. There is one month left for the year 2020 to end and the Corona vaccine developed by many countries is in its final stages. In such a situation, the biggest question here is, will you fly to another country to get it?
What is vaccine tourism?
Vaccine tourism will travel to the country that develops Kovid-19 first and whose vaccine will be most effective. Those who are not able to get the vaccine in their country can go to other countries and get the vaccine, so those who have the money will be able to avail the vaccine tourism. Also read: COVID-19 Vaccine Soon to Be Launch: Corona Vaccine Moderna to be launched soon, know its price
According to a report by Bloomberg, a sugar vaccine is now being distributed and so far it seems safe and moderately effective. Chinese vaccines are being distributed on a global basis and are already under extensive trials in the United Arab Emirates. The timing is uncertain, but experts are of the opinion that vaccine availability in the US may be delayed and it is entirely possible that in January 2021 there may be sufficient vaccine available in Dubai. Now here you have to decide whether you will be ready to travel to another country to get the vaccine yourself.
Mumbai Tourism Company Offer
Mumbai-based James Tours and Travel Company is offering flights to those who want to get vaccine supplements in the US for four days at a cost of Rs 1.75 lakh. In a message going viral on WhatsApp, as soon as the Pfizer vaccine will be officially published for sale in the US (December 11 temporary date), we have brought tour packages for select VVIP customers. The cost will include the cost of airfare from Mumbai to New York, three nights and four days' stay, breakfast and the cost of a vaccine dose.
Lately contacted the number given in the message and spoke to the company. The company said that we are developing vaccine tourism. We are not holding or purchasing any vaccine. Whatever arrangement we make will be within the scope of US law. We will only process your requirements. There is no deadline set right now. For vaccine tourism, we will require registration with your name, email, mobile number, age, physical complications. Also, a copy of your passport will be required. Everything else will be done according to the official permission of the Health Department. Until they announce the official sale of the vaccine to people other than US citizens, we cannot provide you with the vaccine.
Countries struggling to develop vaccine
Covishield is a potential vaccine against the corona virus, which may receive emergency authorization from the Government of India in December. This vaccine is currently in the final stages of testing. Covishield has been developed by Oxford University and pharma giant AstraZeneca. Moderna Inc, one of the leading vaccine manufacturers in the United States, announced that their vaccine candidate was found to be 94.5 percent effective in preventing the corona virus. The results were obtained in the third and final phase of trials conducted by the biotechnology company. Also Read: Coronavirus Vaccine Upadate: Modern's Coronavirus Vaccine Stage-3 Trial 94.5% Effective, US FDA Approval Can Get Approval
Pfizer Inc and BioNTech could secure an emergency US and European authority for their Corona virus vaccine in December 2020, with final test results showing it had a 95 percent success rate. The drug manufacturer further explained that if all things remain positive then the delivery of the vaccine can start before Christmas 2020.
So will vaccine tourism be the next big thing? Whether or not vaccine tourism is immoral seems difficult to say, because medical tourism is certainly ethical. In such a situation, looking at the corona crisis and the competition to develop vaccine, it seems that vaccine tourism will be a big trend in the year 2021.