Tulsi Vivah 2020: Easy Mehndi Design and Puja Vidhi on Tulsi Marriage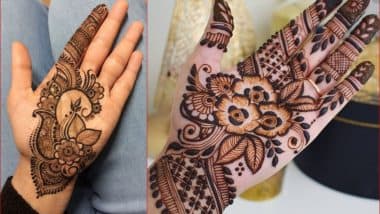 Symbolic photo
Karthik month in the scriptures Is considered the most sacred. Holy festivals like Dhanteras, Diwali, Chhath and Tulsi Vivah are celebrated in Kartik month itself. According to beliefs, people who worship Tulsi in Kartik month according to the rules, always have the grace of Lord Vishnu on them. Along with that women who worship Tulsi Mata in Hatho to increase their beauty Applying full henna is even more beneficial.
Also read: Tulsi Vivah 2020: When is Tulsi marriage, learn auspicious time, worship method and mythology
According to religious beliefs, having Tulsi in the house is considered very auspicious. It is said that in the house where Tulsi is inhabited, Yamdoots never enter. Tulsi is married to another form of Lord Vishnu, Shaligram. According to the legend, Lord Vishnu once pleased and gave a boon to Tulsi that I will also be known as Shaligram and whoever marries him with Tulsi, all his wishes will be fulfilled. Also, on this auspicious occasion of Tulsi marriage, we have brought you easy and very quick banana mehndi design which can help you in improving your beauty in a short time.
Also Read: Tulsi Vivah 2019: Make Tulsi Marriage Special By Making These Easy And Beautiful Rangoli Designs, Watch Video
Tulsi Marriage Worship Method:
According to the scriptures, pillars should be made around Tulsi Maa. Decorating these pillars with archway is considered auspicious. Also, make auspicious sign of Swastik on these as Swastik is considered as the form of Lord Ganesha. After this, make a Rangoli there and along with the lotus, you should perform congregational worship by making the symbol of Shank Chakra and cow's feet.