Tulsi Vivah 2020: Why is it important to have Tulsi at home, know what are its benefits?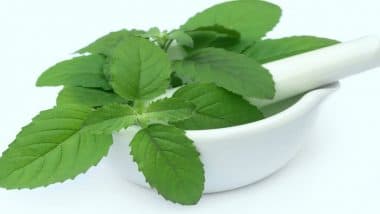 Symbolic photo
Tulsi Vivah 2020: this year A holy festival of Tulsi marriage will be celebrated on 26 November. According to Hindu Panchang, every year on the day of Ekadashi of Shukla Paksha of Kartik month, Tulsi ji is married to Shaligram with pomp. Mangalik works start all over the country with Tulsi marriage. It is an important festival of Hindus. This festival is especially important for the women of the country. On this day, worship of Tulsi plant has special importance, but do you know that Tulsi plant or Indian Tulsi is one such plant which people worship regularly in the morning and evening. It is considered very important religiously and health wise.
There are different types of Tulsi plants like Rama Tulsi, Krishna Tulsi and Vishnu Tulsi. Traditionally, it is believed that keeping a basil plant at home can invite good luck and prosperity. This plant is considered to be the form of Lakshmi. It is said that the basil plant removes the evils and negative energy from the house. With its presence, positive energy is transmitted in the house and there is happiness and peace in the family. Also read: Tulsi Vivah 2020: When is Tulsi marriage, learn auspicious time, worship method and mythology
According to religious beliefs, having Tulsi in the house is considered very auspicious. It is said that in the house where Tulsi is inhabited, Yamdoots never enter. Tulsi is married to Shaligram, another form of Lord Vishnu. According to the legend, Lord Vishnu once pleased and gave a boon to Tulsi that I will also be known as Shaligram and whoever marries him with Tulsi, all his wishes will be fulfilled.
Why do people worship Tulsi?
There are many reasons why it is considered important to worship the basil plant. Tulsi or Vrinda is considered the gateway to heaven, which is the abode of Lord Vishnu. She helps the devotees get closer to their ultimate goal-attainment moksha. It is believed that different parts of the plant are inhabited by various gods and sacred texts of Sanatan Dharma.
Apart from its religious importance, the basil plant is extremely popular for its great medicinal importance and is a major herb in Ayurvedic treatment. Marked by its strong aroma and taste, Tulsi is the 'nectar of life' that promotes longevity. Plant extracts can be used to prevent and cure many diseases.