Tulsi Vivah 2020: How to decorate a basil pot for a Tulsi-Shaligram wedding, see easy and traditional ways of decoration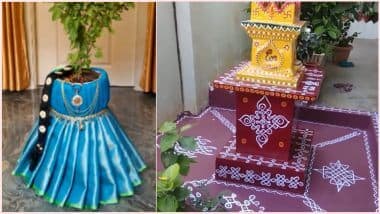 Tulsi Vivah 2020 (Photo Credits: Video Screengrab / YouTube)
Tulsi Vivah 2020: This year, the festival of Tulsi Vivah will be celebrated on 26 November (Thursday). The special significance of Tulasi Vivah Celebration is told in Hinduism. On this day, Shaligram form of Lord Vishnu is married to Tulsi. According to mythological beliefs, with the marriage of Tulsi, all paused manglic operations begin. It is said that those people who do not have a girl child, if they marry Lord Shaligram with Tulsi on this day, then they get equal fruit as the donation of the girl. On this day, the basil plant is decorated like a bride and their marriage is done by traditional law.
On the festival of Tulsi marriage, people decorate basil pot with different types of designs. On this auspicious occasion, a sari is worn around the Tulsi pot and sixteen makeup of Tulsi is done. If you are looking for Tulsi Pot Decoration Idea for Tulsi Marriage, then we have brought for you easy and traditional ways to decorate Tulsi Pot, with the help of which you can make this festival even more special.
Easy design to decorate basil pot
Also Read: Tulsi Vivah 2020: Why Tulsi is considered auspicious at home, know what its benefits are?
Tulsi Pot Decoration Idea
Basil Pot Holder Decoration Idea
Basil pot
Make up of basil plant
Also read: Tulsi Vivah 2020: When is Tulsi marriage, learn auspicious time, worship method and mythology
Tulsi is believed to be the symbol of Goddess Lakshmi and Shaligram is a form of Lord Vishnu. Tulsi is very dear to Lord Vishnu, hence the Tulsi party is considered to be very important in their worship. According to the legend, once Tulsi got angry and cursed Vishnu, due to which he became a stone. To get rid of this curse, Srihari took the avatar of Shaligram. After this, he married Mata Tulsi.
Significantly, Tulsi marriage is an important ritual and this tradition has been going on for centuries. In many places, Tulsi marriage is done on Dwadashi Tithi on the day of Devuthani Ekadashi. However, the Tulsi wedding festival is celebrated from Ekadashi of Kartik month to Kartik Purnima.