Shubh Vivah Muhurat 2020-21: Manglik work to begin after Dev Uthani Ekadashi, see auspicious marriage dates from November to next year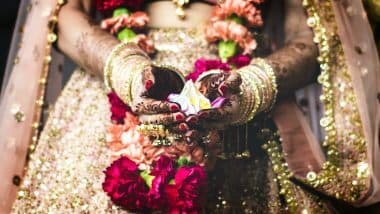 Photo Credits: unsplash.com
Shubh Vivah Muhurat 2020-21: Ekadashi of the Shukla Paksha of Kartik month is known as Dev Uthani Ekadashi, Dev Prabodhini Ekadashi and Devotthan Ekadashi (Devotthan Ekadashi). According to religious beliefs, on the day of Ekadashi of Shukla Paksha of Ashada month i.e. Dev Shayani Ekadashi, Lord Vishnu goes to Kshirasagar for four months of Yojanidra and on the day of Devuthani Ekadashi, he awakes from Yoganidra . It is believed that with the awakening of Lord Shrihari, positive powers begin to flow in the creation and from this day all manglic actions begin. This year, Devauthani Ekadashi will be celebrated on 25 November.
Chaturmas ends with Devuthani Ekadashi and on this day Tulsi is married to Shaligram form of Lord Vishnu. With this, auspicious works like marriage and marriage begin. Let us know the complete list of auspicious time of marriage from November 2020 to April 2021… Also read: Dev Uthani Ekadashi 2020: When is Devauthani Ekadashi? Why marriages and demanding jobs begin from this day
Devouthani Ekadashi 2020 auspicious time
Devauthani Ekadashi – 25 November 2020 (Wednesday)
Ekadashi date commences – 25 November 2020 from 02:44 AM,
Ekadashi date ends – till 05:12 AM in the morning of 26 November 2020.
Auspicious time of marriage for 2020-21
Marriage Muhurat for November-December 2020
27 November 2020 – Karthik Shukla Dwadashi, Ashwini Nakshatra
29 November 2020 – Karthik Shukla Chaturdashi, Rohini Nakshatra
30 November 2020 – Karthik Purnima, Rohini Nakshatra
01 December 2020- Margashirsha Krishna Pratipada, Rohini Nakshatra
07 December 2020 – Margashirsha Krishna Saptami, Magha Nakshatra
09 December 2020 – Margashirsha Krishna Navami, Hasta Nakshatra
10 December 2020 – Margashirsha Krishna Dashami, Chitra Nakshatra
11 December 2020 – Margashirsha Krishna Ekadashi, Chitra Nakshatra Also read: Devuthani Ekadashi Messages 2020: Send these GIF Greetings, WhatsApp Stickers, Wallpapers, Photos Messages on Dev Uthi Ekadashi and best wishes
Marriage Muhurat for the year 2021
This year Kharmas will start from 15 December, which will run till 14 January 2021 (Makar Sankranti) next year. There is no suitable time for marriage in Kharmas. After this, Guru Tara will be established on January 19, which will remain till February 16. During this time there will not be a Muhurat for marriage, then there will be no suitable Muhurat for marriage from 16 February to 17 April, which means that after 11 December there will be no auspicious time of marriage for the next 4 months. The first auspicious date of marriage in 2021 will be on 22 April.