Jagadhatri Puja 2020: Jagadhatri Puja today, why this festival is celebrated on Akshay Navami, know its importance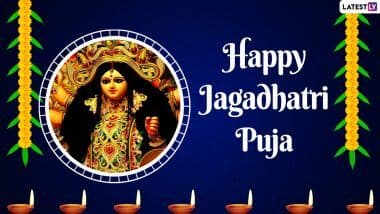 Jagadhatri Pooja 2020 (Photo Credits: File Image)
Jagadhatri Puja 2020: On the one hand, today (23 November 2020), the festival of Amla Navami is being celebrated in the country, while the worship of Maa Jagadhatri is also being done. Mother Jagadhatri is said to be the protector of the world and she is considered to be the form of Adishakti Devi Durga (Devi Durga). This puja performed on Akshaya Navami is celebrated with vigor and enthusiasm similar to Durga Puja in Bengal (West Bangal) and Odisha, which is called Jagadhatri Pujo. According to Hindu Panchang, the festival of Jagadhatri Puja (Jagadhatri Puja) is celebrated with pomp on the Navami Tithi of Shukla Paksha of every Kartik month. Actually, few people are aware of this puja except those who live in West Bengal and Odisha. Why is this festival celebrated? What is the significance of Jagadhatri Puja and who started this worship? Let us know in detail in this article.
Who started the festival of Jagadhatri Puja?
According to popular beliefs, the worship of Jagadhatri originated from Nadia in Bengal and the first king of Krishnanagar, Krishnachandra, worshiped Jagadhatri. It is believed that the king was arrested during Durga Puja by Nawab Siraj-ud-Dulla for tax dues, after which he was released on Vijayadashami on the last day of Durga Puja, due to the arrest of the king during his festivals. Could not be celebrated grandly, but when the king returned to Krishnachandra, he started the ritual of Jagadhatri Puja, which was celebrated with joy like Durga Puja. It is believed that since then the festival of Jagadhatri Puja is celebrated with pomp. Also read: Amla Navami 2020: Worshiping the Amla tree on Amla Navami brings blessings of Lord Vishnu and mother Lakshmi, know the method and importance
Why is Jagadhatri Puja celebrated?
Mother Jagadhatri is believed to be the incarnation of Goddess Durga. He is considered to be the gentle incarnation of Goddess Durga. The goddess has four hands, in which she bears a conch, bow, wheel and arrow. Like Goddess Durga, Jagadhatri Devi's vehicle is Leo. Goddess Jagadhatri is considered to be the symbol of Sattoguna, while Goddess Durga and mother Kali are considered as symbols of Rajoguna and Tamoguna. Like Durga Puja, Jagadhatri Puja festival is celebrated with great pomp in Bengal and Odisha.
Where is this festival celebrated?
The festival of Jagadhatri Puja is celebrated with pomp in some places of West Bengal and Odisha in Chandranagar, Krishnanagar, Bonchi, Bhadreswar, Hooghly, Rishra, Ishapur, Tehatta, Ashoknagar, Kalyangarh and Baripada. It is a special socio-cultural festival. Jagadhatri Pujos are specially organized in Ramakrishna Mission. People worship Goddess Jagadhatri by wishing for a healthy, happy and prosperous life.