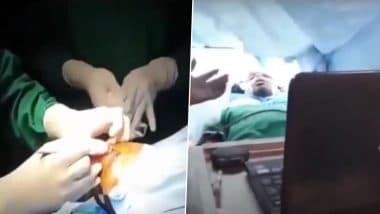 Big Boss kept watching during brain surgery (Photo Credits: Youtube)
Man Watches Bigg Boss, Avatar During Brain Surgery: A shocking anecdote of a person from Andhra Pradesh has come to the fore and everyone is stunned. Here a 33-year-old man watched reality TV shows 'Bigg Boss' and Hollywood film 'Avatar' to keep himself awake during his brain surgery. This case is from Guntur in Andhra Pradesh where a very delicate surgery of that person's brain was to be done.
For this it was very important to keep that person awake during the surgery. In such a situation, the doctors took the trick and completed the surgery by showing him 'Bigg Boss' and Hollywood movie 'Avatar'. The surgery was performed on 33-year-old Vara Prasad at the Brinda Neuro Center.
Watch this video:
Vara Prasad was kept awake during the entire surgery. While doctors were removing tumors from his brain, Vara Prasad was enjoying Bigg Boss and Avatar movie. Earlier in the year 2016 too, Vara Prasad underwent surgery in Hyderabad but he could not recover fully.
This surgery was jointly performed by Dr. B.F. Srinivas Reddy, Dr. Seshadri Shekhar (neurosurgeon), and Dr. Trinadh (anesthetist) at Government General Hospital, Guntur. After surgery, the patient was discharged from the hospital on Saturday.