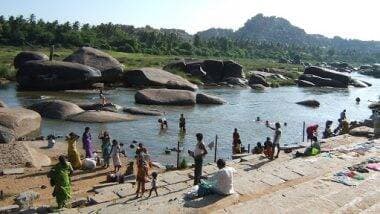 Tungabhadra Pushkaram 2020 (Photo Credits: Wikipedia)
Tungabhadra Pushkaram 2020 Live Streaming: The Tungabhadra Pushkaram river festival in Andhra Pradesh (Andhra Pradesh) is going to start from today. The festival will be organized from 20 November to 1 December 2020. Pushkaram for the river Tungabhadra is held for a period of 12 days. Endowments Minister Velampalli Srinivas said on Thursday that the river festival would begin at around 1.21 pm on Friday and Chief Minister YS Jagan Mohan Reddy would take part in traditional puja rituals to be held in Kurnool. . Actually, Pushkaralu is organized here once in 12 years.
This year Nadi Mahotsava is being organized from November 20 to December 1. It is to be known that the Tungabhadra river is spread in four states Telangana, Andhra Pradesh, Karnataka and Maharashtra. You can watch the live streaming of the first day worship and the beginning of Tungabhadra Pushkaram here.
Tungabhadra Pushkaram 2020 Live Streaming
To commemorate the river festival, a ghat has been established in Kurnool district, 23 in Kurnool city, 8 in Mantralayam, 5 in Kodumuru, 2 in Amminagur and Nandikotak Nagar. However, devotees are not allowed to take a dip of faith in the river due to the Kovid-19 epidemic. The minister said that instead of keeping the central government guidelines, a shower has been arranged at the ghats and devotees have been requested to cooperate in this regard. According to reports, 350 priests have been made available to the devotees.
During this festival, devotees will be allowed to come from 6 am to 6 pm only. There is no problem in Pushkaram, for this a total of 23 in-charge have been appointed. Free e-ticket booking facility has been made available for the devotees, through which devotees can book tickets online and current booking facility is also available. Devotees will be told about the time slot for prayer and ghat.