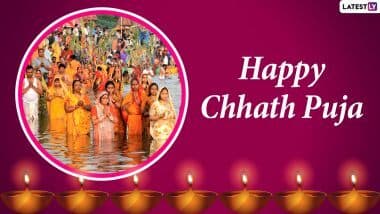 Chhath Puja 2020 (Photo Credits: File Image)
Chhath Puja 2020: Today (20 November 2020) is the main day of Chhath Puja Mahaparva (Chhath Puja Mahaparv), celebrated after the five-day Diwali. On this day, there is a law to offer Arghya to the setting sun in the evening, which is called SandhyaArghya. It is believed that after worshiping Kharna, Goddess Shashthi arrives and Sun God is worshiped in the evening. Chhath Puja Vrat is done by women to protect their children, happy life, and wish the whole family happiness, peace and health. According to Hindu Panchang, Chhath Puja (Chhath Puja) is celebrated from Chaturthi Tithi of Shukla Paksha of Kartik month to Saptami Tithi of Kartik month.
The third and fourth days of Chhath Puja festival celebrated for four days are most important. After Sandhya Arghya on the third day, Vratis offer Arghya to the Sun God at sunrise the next day, which is called Usha Arghya. Let us know in detail about Usha Arghya and the auspicious time for offering Arghya to the rising sun. Also Read: Chhath Puja 2020 Date & Full Schedule: When are Nahai-Khay, Lohanda-Kharna, Sandhya and Usha Arghya? Know the date and complete schedule of 4 day Chhath Puja festival
Usha Arghy
The last day of the four-day Chhath Puja falls on the seventh day of the Shukla Paksha of Kartik month. This year Usha Arghya will be given on 21 November 2020 (Saturday). On this day, before the sunrise, the Vratis retire from the bath and reach the ghat of the river or pond and offer arghya to the rising sun during the dawn. Arghya is offered to Usha, wife of Surya. On the fourth day, the fast of Chhath Puja is completed only after duly worshiping Usha Arghya and Suryadev. After Usha Arghya, after distributing the Prasad, the Vrati observes their fast and with this the Chhath Puja ends.
auspicious time
Karthik Shukla Saptami- 21 November 2020 (Saturday)
Sunrise time 06:49 AM.
Sunset time 05:25 pm Also read: Chhath Puja 2020: The third day of Chhath Puja Mahaparva, Arghya will be given to the setting sun today, know what is auspicious time
Significantly, on the second day of Shashthi date, fasting is done on the seventh day after giving arghya to the sun during the dawn. After the Puja, the Vratis complete the fast by drinking a syrup of raw milk and eating some prasad, which is called Paran. This fast is considered extremely difficult in all the fasts and its rules are also very strict, which the fasts have to follow.
It is believed that by observing this fast one gets the blessings of Lord Surya and the sixth mother. Childless children get the happiness of children and with the effect of this fast, health, happiness, prosperity, wealth and prosperity come. This Lokparva is celebrated with great pomp in Uttar Pradesh, Bihar and Jharkhand.