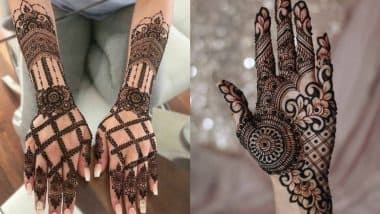 Chhath Puja 2020 Mehndi Designs (Photo Credits: Instagram)
Chhath Puja 2020 Mehndi Designs Videos: Most of the devotees wait for Chhath Puja after Diwali. This is one of the festivals celebrated with great pomp in North India, hence, it is also called Mahaparva of faith. After Diwali, now everyone is waiting for Chhath Puja, the festival of worship of Sun God and Chhath Maiya. This festival is celebrated with great enthusiasm in North India and especially in Bihar, UP and Jharkhand. On this day, women decorate and make mehndi in their hands. Also read: When is Chhath Puja Nahay-Khay, Lohanda-Kharna, Sandhya and Usha Arghya? Know the date and complete schedule of 4 day Chhath Puja festival
Often women apply henna on any special occasion which is considered auspicious according to the occasion. There are many importance of applying mehndi among Hindus, often women apply mehndi on Teej and festival and show happiness. Whether it is a wedding, festival or any such event, first henna is applied, but not everyone knows the importance of applying mehndi. If you are thinking of fasting Chhath Puja, then make Mehndi in your hands and increase the auspiciousness of this festival. We have brought you beautiful designs of mehndi, which you can try.
1- Chhath Puja Special Mehndi Design
2- Chhath Puja attractive mehndi designs
3- Chhath Puja Back Hand Mehndi Design
4- Chhath Puja Beautiful Mehndi Design
Beautiful Back Hand Mehndi Design
Easy and beautiful mehndi designs
1. First Day (Nahai Khay): After fasting, women wear new clothes after bathing. In the evening there is vegetarian food.
2. Second Day (Kharna): Women keep fast on the day of Kartik Shukla Panchami and have food in the evening. In the evening, kheer is prepared from rice and jaggery.
3. Third Day (Shashthi Day): On this day Prasad of Chhath festival is made. Rice laddus are made in most places. Prasad and fruits are decorated in bamboo baskets. The basket is worshiped. The fasting women go to the pond, river or ghat to offer prayers to the sun and worship. The bathing sun is worshiped. Also read: Chhath Puja 2020: Chhath Puja is the festival of worship of Chhath Maiya and Sun God, do not make these mistakes during this time, know the auspicious time and worship method
4. Fourth Day: Arghya is offered to the Sun even at sunrise. Chhath Puja is done by distributing prasad after worship. In this way, the four-day Chhath festival is completed. Regarding Chhath festival, sweet potato, gourd and sugarcane are being purchased by the devotees. Looking at the festival, their arrival in the market has increased.
Significantly, this year, amidst the corona virus epidemic, the festival of Chhath Puja is being celebrated. In such a situation, people are being appealed to gather less crowds in public places. People are being told that they should worship Pooja by making a water source at home.