Universal Children's Day 2020: When is Universal Children's Day celebrated? Learn the history and importance of this day dedicated to children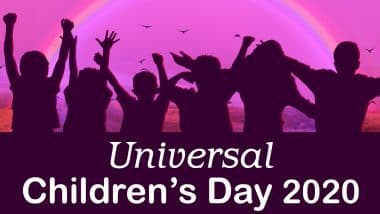 Universal Children's Day 2020 (Photo Credits; File Image)
Universal Children's Day 2020: Universal Children's Day is celebrated every year on 20 November. The purpose of this day is to improve child welfare and make people aware of the rights of children around the world. 20 November is an important date, because in 1959 the United Nations General Assembly adopted the Declaration of Children's Rights. In 1989, on the same date, the United Nations General Assembly adopted the Convention on the Rights of the Child. The United Nations General Assembly then marked the day as Universal Children's Day, acknowledging both the declaration of children's rights and the conference. The conference listed the rights of many children such as protection against violence and discrimination, the right to life-health and education. Let us know the history, significance and events related to this day. Also Read: International Children's Day 2020 Wishes: Wish you all the best on International Children's Day with WhatsApp Status, Facebook Messages, GIF Greetings, Photo SMS, Wallpapers
Universal Children's Day is celebrated in many places around the world with events as diverse as schools, charities, businesses and governments. It has been described by the United Nations as an important day with a serious message. On this special day children get an opportunity to handle high profile roles in media, politics and sports, so that awareness can be raised about the challenges faced by children. People share pictures of children engaged in various activities on social media using the hashtag #UniversalChildrensDay.
World Children's Day celebrates this day by advocating for the rights of children, to help build a better world for children. The UN says that parents, teachers, nurses, doctors, leaders and civil society activists, religious and community elders, corporate giants, media professionals as well as youth and children themselves play an important role in creating a better world. Can. World Children's Day is relevant to societies, communities and nations. Also Read: Children's Day 2020 Hindi Wishes: Wish you all the best on Children's Day through these WhatsApp Stickers, Facebook Messages, GIF Greetings, HD Images, Quotes, Wallpapers
However, this year the corona virus epidemic has affected all festivals and important festivals. In such a situation, the programs organized on Universal Children's Day have also been affected due to this epidemic. In this hour of Corona crisis, you can spend quality time with your children on this special occasion and tell them about making a better world. We wish Universal Children's Day to all children.