Chhath Puja 2020 Rituals at Home: Can't go to Ghat due to Corona crisis? Give Argya to Lord Surya at home in these 4 ways and celebrate Chhath Puja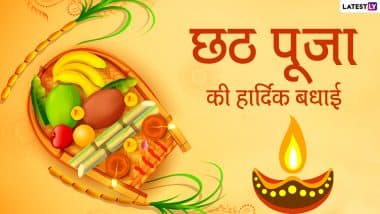 Chhath Puja 2020 (Photo Credits: File Image)
Chhath Puja 2020 Rituals at Home: The festival of worshiping Surya Dev (Surya Dev) and Chhath Maiya (Chhath Maiyya) is celebrated six days after Diwali. This festival of Suryopasana is celebrated twice a year. First time in Chaitra month and second in Kartik month. The special significance of Chhath Puja (Chhath Puja), which is celebrated on the Shashti Tithi of Shukla Paksha of Kartik month, is told. This year, due to Coronavirus Pandemic, there has been an appeal to reduce the crowd of people at the ghats, in such a situation that many people will not be able to go to the ghat to pay arghya. In such a situation, you can offer arghya to the sun god by following all the rules of Chhath Puja at your home by following Social Distancing between Corona Crisis. The festival of Chhath Puja is celebrated for family happiness, prosperity and prosperity.
Women and men celebrate this festival equally. During the four-day Chhath Puja, Nahai Khay, Lohanda Kharna, Sandhya Arghya and Usha Arghya are included. There are many mythological and folk tales associated with this festival which tells the tradition of Chhath Puja and its importance. Chhath Puja fast is considered to be the most difficult fast and its rules are also very strict. On this day, along with offering Arghya to the Sun, the Vratis also worship their two wives Sandhya and Usha. Also Read: Chhath Puja 2020 Date & Full Schedule: When are Nahai-Khay, Lohanda-Kharna, Sandhya and Usha Arghya? Know the date and complete schedule of 4 day Chhath Puja festival
Build a ghat at home like this
Children's Garden Pool
For Chhath Puja at home, you can use the children's garden pool. For this, you can fill water in it and put some mud outside the pool, so that it looks like a ghat.
Tub use
Similarly, you can also use a tub for Chhath Puja at home. For this, use a tub in which you and your partner can stand and offer arghya to the sun god.
A clean swimming pool
If you have a swimming pool, then you can clean it and use it for Chhath Puja. You can offer arghya to the sun god by standing in the water of the swimming pool. Also read: Chhath Puja 2020: Chhath Puja is the festival of worship of Chhath Maiya and Sun God, do not make these mistakes during this time, know the auspicious time and worship method
Build a pier on the terrace
If you want to do something creative on Chhath Puja, then you can collect some soil on your terrace or terrace and make a small pool from it and pour water into it and stand in it and offer it to the Sun.
It is important to note that every year during Chhath Puja, fasts on the river or pond reach the Sun God to offer Arghya. Ganga Ghat is one of the most popular places for Chhath Puja, but in view of the Corona crisis this year, people are being appealed not to gather crowds at the ghats and people are being asked to worship at home. In such a way, you can celebrate the festival of Chhath Puja while staying at home in these ways.