Chhath Puja 2020 Mehndi Designs: Make Mehndi on your hands and feet to make Chhath Puja more special, see attractive and trendy designs (See Pics)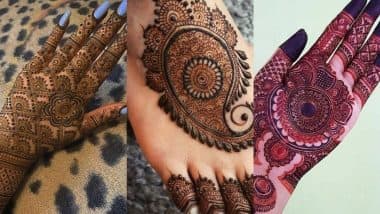 Chhath Special Mehndi Design (Photo Credits: Instagram)
Chhath Puja 2020 Mehndi Designs: After Diwali, Chhath Puja has been celebrated all over the country. Chhath Puja is believed by people of North and Bihar, but this worship is celebrated by every North Indian living in the country. At this time people are preparing for Chhath Puja (Chhath Puja 2020). The festival of Chhath Puja is celebrated every year after the 6th day of Diwali, the Shashthi date of Shukla Paksha of Kartik month. Chhath Puja can be seen in the foothills of Bihar, Uttar Pradesh and Nepal. Chhath Puja is mainly a festival of worship of Suryadev, which lasts for four days. It is believed that Chhath Maiya is the sister of Surya Dev and Chhath Maiya is very happy with the worship of Suryadev on Chhath festival. Although this festival of Suryopasana is celebrated twice a year on Chaitra Shukla Shashthi and Kartik Shukla Shashthi, but the Chhath festival celebrated on Kartik Shukla Shashthi has special significance.
According to mythological beliefs, Lord Rama and Sita also performed this fast to worship the Sun. According to the legend, Lord Rama was Suryavanshi and Surya Dev was his total deity. It is said that after returning to Ayodhya from 14 years of exile, Kartik Shukla Shashthi had fasted by Sree Ram and Mata Sita and offered Arghya to the Sun while drowning on the banks of river Saryu. After performing this puja by Sia-Ram, the people of Ayodhya also started doing Chhath Puja. This practice of Chhath Puja is believed to have started since then.
Also Read: Chhath Puja 2020 Date & Full Schedule: When are Nahai-Khay, Lohanda-Kharna, Sandhya and Usha Arghya? Know the date and complete schedule of 4 day Chhath Puja festival
On the day of Chhat Puja, women do their makeup, wear new clothes and even apply Mehndi on their hands and feet. Mehndi is considered very auspicious in decoration. Women make mehndi on all special occasions and festivals. Mehndi is considered an auspicious omen, as well as it keeps your skin cool. Mehndi is a symbol of auspiciousness, love and affection. Mehndi is also known for its medicinal properties. If you are thinking of fasting Chhath Puja, then make Mehndi in your hands and increase the auspiciousness of this festival. Today we have brought some special, attractive, simple and attractive designs of mehndi for you. You can easily make them on your hands and feet. Try these designs on this Mahaparva of Chhat Puja.
1. Simple and Beautiful Bake Hand Mehndi Design: – These mehndi designs are for the back hand. It will take less time to apply it and your beauty will also take four moons.
2. palm mehndi design: – This mehndi design is for the palm. This will fill your entire palm. It is beautiful and attractive in appearance.
3. Bridal Look Mehndi Design: – Some women love full hand mehndi or say bridal look mehndi. This design is for them.
4. Indo-Arabic Mehndi Design: – It is an Indo-Arabic design, which is slightly empty in the middle and some are full. If you are in trend today, you can try.
5. Simple Flower Mehndi Design: – Some women prefer simple designs, which are made of flowers and leaves. This is one of them, you must try once.
6. Beautiful arabic mehndi design: – This is an arabic design, most women love this design, as well as it is easy to apply.
7. Pointed Finger Mehndi Design: – There are some people who do not like to sit for long and apply mehndi, this design is for them. You can complete your makeup by applying your fingers on your hands.
8. Special mehndi designs for feet: – If someone has to apply full bridal look mehndi on occasions like Teej-festival, then you can include this foot mehndi in your list.
9. Attractive mehndi designs: – This is a full leg mehndi design. You must apply it on your feet. This design is beautiful and attractive.
10. Special leg mehndi design: – This is a trendy design for festivals, which you can apply on your own.
Let us know that in view of the corona virus epidemic in the country and the world, the festival of Chhath Puja is being celebrated. In such a situation, the central and state governments have imposed many restrictions and appealed people not to mobilize in public places. People are being told that they should worship Pooja by making a water source at home.