Chhath Puja 2020: Chhath Puja is the festival of worship of Chhath Maiya and Sun God, do not make these mistakes during this time, know the auspicious time and worship method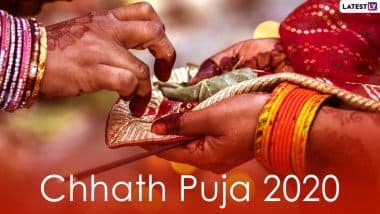 Chhath Puja 2020 (Photo Credits: File Image)
Chhath Puja 2020: After the five-day Diwali festival, people are now preparing for the Mahaparva Chhath Puja (Chhath Puja) worshiping the sun. The main festival of Chhath Puja is celebrated every year on the Shashti Tithi of Shukla Paksha of Kartik month. However, this mahaparva starts on the Chaturthi of Kartik Shukla and ends on Kartik Shukla Saptami. During this, Nahay Khay, Lohanda Kharna, Sandhya and Usha Arghya are included. The fast of Chhath Puja is considered to be the most difficult fast and its rules have to be strictly followed. The Vrati observing Chhath fasting for 36 hours worships Chhath Maiyya and Surya Dev while staying waterless and unharmed. On sunbathing day, during sunset, arghya is offered to the drowning sun by standing in the river or pond water and this fast is completed by offering arghya to the rising sun at sunrise the next day.
The more difficult the fast of Chhath Puja, the more strict are the rules related to this fast. Let us know what are those things, which should be avoided during the fast. With this, let us look at the auspicious time and worship method… Also Read: Chhath Puja 2020 Date & Full Schedule: When are Nahai-Khay, Lohanda-Kharna, Sandhya and Usha Arghya? Know the date and complete schedule of 4 day Chhath Puja festival
Chhath Puja auspicious time
This year, the main festival of Chhath Puja will be celebrated on 20 November 2020 (Friday).
Best date start- On November 19, 2020 at 9:58 pm,
Best date ends – 20 November 2020 till 9:29 pm.
Sunrise time 06:48 AM.
Sunset time 17:26 pm
Usha Argh Time 6:48 AM.
Do not commit these mistakes on Chhath
Avoid eating non-vegetarian, cigarettes and alcohol.
Vratis should sleep on the ground instead of on the bed.
Avoid consuming garlic and onion.
Take care of complete cleanliness and purity while making prasad.
Avoid drinking water and food before offering it to the Sun.
Should not be paid by silver, steel, glass or plastic utensils.
You should avoid eating and drinking anything at the place of making prasad.
A person fasting should take special care of purity.
If you are following Kosi ritual then you should be extra careful. Also read: November 2020 Festival Calendar: Many big fasts and festivals are falling in the month of November with Karva Chauth and five-day Diwali celebration, see full list
This year we are struggling with the outbreak of Corona virus epidemic. In such a case, an appeal is being made to reduce congestion in public places. In this hour of crisis, people are being asked to worship at home by making a source of water. This mahaparva is celebrated with enthusiasm in northern India especially in the lowland areas of Bihar, UP, Jharkhand and Nepal.
It is worth mentioning that Chhath Puja festival starts with Nahai-Khay, Kharna is done the next day. Prasad alias Thekua of Chhath festival is prepared on the third day, then in the evening, standing in a river or pond water, Sandhya Arghya is given and fasting is done on the next day after distributing Prasad by giving Usha Arghya at sunrise. .