Jharkhand Formation Day 2020: Jharkhand Foundation Day today, how was this state formed? Learn history and importance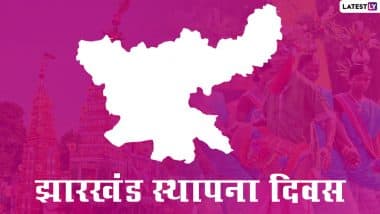 Jharkhand Foundation Day 2020 (Photo Credits: File Image)
Jharkhand Formation Day 2020: Jharkhand (Jharkhand) celebrates its State Formation Day on November 15 every year and the state of Jharkhand has turned 20 years old today. Jharkhand is also known as Land of Forest or Bushland. It is located in north-eastern India. Presently, Jharkhand shares its border with Bihar in the north, Uttar Pradesh, Chhattisgarh in the north-west, Odisha in the south and West Bengal in the east. After the passage of Bihar Reorganization Act 2000 in Parliament, this state was separated from Bihar. Later six more districts were established, reorganizing the existing districts. Khunti and Ramgarh came into existence as a 23rd and 24th district on 12 September 2007. Jharkhand Foundation Day is celebrated on the birth anniversary of tribal leader Birsa Munda, who played an important role in the history of the Indian independence movement.
History and importance of Jharkhand
Jharkhand was carved out of Bihar in the year 2000 and became a separate state. Earlier it was a part of the southern part of Bihar. It is the homeland of the tribal who had long dreamed of a separate state. After independence, people of Jharkhand state got very little socio-economic benefit. Especially tribal people. According to popular belief, Raja Jai ​​Singh Dev of Odisha declared himself the ruler of Jharkhand in the 13th century. Also Read: Jharkhand Foundation Day 2020: On the 20th Foundation Day of Jharkhand, PM Modi gave greetings to the people of the state in this special way
The state of Jharkhand includes the Chotanagpur Plateau and the Santhal Parganas forests. A unique confluence of different cultural traditions is seen here. Due to the regular movement of Jharkhand Mukti Morcha after independence, the government obliged the government in 1995 to establish Jharkhand Region Autonomous Council and finally an independent state. On 2 August 2020, when the Parliament of India passed the Bihar Reorganization Bill to create the state of Jharkhand, on 15 November 2000, 18 states were carved out of Bihar to form the state of Jharkhand and with it Jharkhand became the 28th state of India.
Jharkhand is rich in coal and the state has at least 40 per cent of India's mineral resources. This state with its beautiful springs, lush green forests like Saranda which is the largest sal forest in Asia. Apart from this, Jagannath Temple, Baidyanath Dham, Dalma Wildlife Sanctuary and Betla National Park are known for this.