Diwali 2020 Lakshmi Puja: These things are necessary for Lakshmi Pujan on Diwali, know the auspicious time and list of materials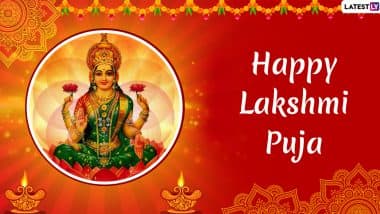 Symbolic picture
Diwali 2020 Lakshmi Puja: Diwali is on November 14 this year. Diwali is one of the most prominent and big festivals of Hindus. It is a symbol of happiness, prosperity, peace and positive energy. This festival of lights tells us that no matter what happens, truth prevails over untruth. It is believed that Lord Rama returned to his home after burning Ravana's Lanka by cutting 14 years of exile. In this happiness, the whole people welcomed Shri Ram in the city by lighting the lamps of ghee. Ram's devotees filled the entire Ayodhya with the light of lamps. Diwali festival is celebrated as the birth day of Maa Lakshmi. At the same time, it is also believed that on the night of Diwali, Maa Lakshmi married Lord Vishnu. On this day, worship of Shri Ganesh, Maa Lakshmi and Maa Saraswati (Diwali Puja) is done. It is believed that by worshiping the law, poverty is removed and prosperity and wisdom comes. Apart from Hindus, people of Sikh, Buddhist and Jainism also celebrate Diwali with great pomp.
Lucknow- From 5.18 pm to 5.15 pm
Noida- From 5.29 pm to 5.25 pm.
Meerut- From 5 in the evening 21 to 7 in the evening.
Kanpur- From 5 in the evening 21 to 7 in the evening.
Banaras- From 5 o'clock in the evening 5 to 12 o'clock in the evening.
Prayagraj – From 5.17 pm to 5.17 pm.
Also Read: Design Rangoli for Mother Lakshmi's arrival on the auspicious festival of Diwali, see easy and attractive designs
White flower
To worship Goddess Lakshmi in worship, keep white flowers on a plate. It is said that the offering of Mogra or white flowers during the worship of mother Lakshmi on the day of Diwali brings blessings to the mother Lakshmi.
Lotus flower-
Lotus flower is very popular for mother Lakshmi. It is believed that offering lotus flowers during their worship is auspicious. If the lotus flower is not available in the market then you can offer it by purchasing lotus gattas from the market.
Clamshell–
On the night of Diwali, white or yellow colored cowries should be offered in the worship of Goddess Lakshmi. Maa Lakshmi is loved by white cowers. It is said that by doing this, mother Lakshmi also gives prosperity along with money and grain. It is believed that during the worship of the night, keep the clamshells and after taking a bath in the morning it is auspicious to keep those clams in the vault.
Batashe-
It is of special importance to offer Batashe to Maa Lakshmi on the day of Diwali. It is auspicious to have betashe, kheel and white colored sweets during the puja. It is believed that by doing this, Mother Laxmi showers her grace.
Also read: Lakshmi-Ganesha Puja Vidhi and auspicious time, know how to make the fathers happy and chase away the home from the strange traditions.
It is worth mentioning that by worshiping Goddess Lakshmi on the night of Diwali by law and legislation, happiness and prosperity comes in the family. It is believed that Goddess Lakshmi is very pleased by offering these things during worship.