Govatsa Dwadashi 2020 Rangoli Designs: Make Rangoli on this auspicious occasion of Govts Dwadashi, see easy and beautiful pictures (Watch Tutorial Video)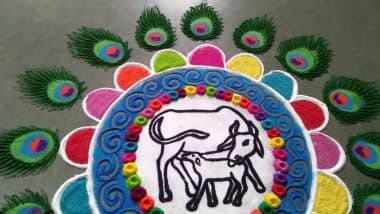 Govts Dwadashi Rangoli Design (Photo Credits: Instagram)
Govatsa Dwadashi 2020 Rangoli Designs: Today, Govatsa Dwadashi is being celebrated in many parts of the country. Govats Dwadashi is also known as Bach Baras and Vasu Baras. Cow and calf are worshiped on this day. Religions believe that the cow is inhabited by all the gods and goddesses and that worshiping the cow-calf on the day of Govts Dwadashi is pleasing to the gods. According to Hindu calendar, this festival is celebrated on the Dwadashi date of Krishna Paksha of Kartik month. Cows and calves are worshiped and fed with food. In cities, cow and calf are rarely seen, so if you do not see this around you, then you can worship them by making an idol.
It is said that, those who fast and worship Goddess Dwadashi have special blessings of Lord Vishnu and keep their blessings on the devotees. Gowts Dwadashi fast is kept for the long life and prosperity of the children. On this day, in some places, mothers also observe a nirjala vow to wish their children a happy life. Many preparations are made before the Puja, one of which is to make Rangoli at the entrance of the house. Rangoli increases the auspiciousness of any festival and it is also considered auspicious for the arrival of God. Rangoli is not only made with the help of colors, you can make grains, flowers, etc. using any item of your choice. Today we will show many types of rangoli designs in this article, which you can easily make.
Also Read: Govatsa Dwadashi 2020 Wishes & Images: Greetings to Govts Dwadashi, send these Hindi WhatsApp Stickers, Facebook Messages, GIF Greetings, Quotes, SMS and Wallpapers
See easy, attractive and beautiful designs of rangoli:
Rangoli with flowers and leaves: This Rangoli is made with the help of flowers and leaves. This is an easy and beautiful Rangoli.
Govts Dwadashi Special Rangoli Design: Make special rangoli designs on Govts Dwadashi.
Rangoli made from grains: The special thing about this Rangoli is that it has been made using many types of grains. It does not use any colors.
Easy and Beautiful Rangoli Design: You can make this Rangoli to save your time.
Simple Rangoli Design: Make this easy and beautiful rangoli design
See this special and special rangoli design (Watch Videos)
1- Rangoli Design
2- Rangoli Design
3- Rangoli Design
https://www.youtube.com/watch?v=z3HLc0J06ZY
The auspicious night of Govts Dwadashi is 09.30 minutes. The auspicious time of worship on the day of Govts Dwadashi is from 05.29 minutes in the evening to 08.07 minutes in the evening. On this day, cow dynasty is worshiped. It is said that there is no more ritual than cow-devotion and cow-service. With the worship of cow mother, a person gets blessings of all the deities and ancestors.