Diwali 2020: Lakshmi-Ganesh worship method and auspicious auspicious, know how to make fathers happy and chase away from home amidst strange traditions.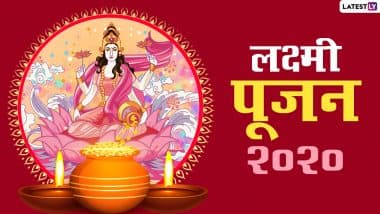 Lakshmi Pujan 2020 (Photo Credits: File Image)
Diwali 2020: Deepawali Festival is celebrated on the new moon day of Kartik month. According to the Hindi Panchang, this year, Deepawali is falling on 14 November (Saturday). On this day, Goddess Lakshmi (Mata Lakshmi) and God of Wisdom Shri Ganesha (Bhagwan Ganesh) are worshiped. On this day, every Indian family works together with specific traditions and customs and performs ritual rituals of Goddess Lakshmi and Ganesha in full law. It is believed that by doing this, you get special success of happiness, prosperity and wisdom tact, and poverty is destroyed. There are also some specific traditions and customs on Deepawali, which we will mention here.
Auspicious time for Lakshmi Pujan
According to our Jyotishacharya, according to the calculations of planetary constellations this year, Chaturdashi will remain on November 14 till 01.16 pm. After this, Amavasya will be observed, so on November 14, the main Diwali i.e. Lakshmi-Pujan will be done. For Lakshmi-Ganesh worship, the Muhurta from 05.40 pm to 08.15 pm is considered the best.
Puja Materials and Law
Gold, silver, brass or clay idols of Goddess Lakshmi and Shriganesh ji, coconut, cloves, cardamom, incense, camphor, roli, kumukam, Akshat, paan, betel nut, clay, lamp, cotton, kalava, honey, curd, gangajal, Jaggery, seasonal fruits, red lotus, rose and marigold, barley, wheat, durva, sandalwood, vermilion, panchamrit, milk, dry fruits, betasha, janeu, white cloth, perfume, garrison, kalash, lotus gatta garland, conch, Thali, Asan, Havan Kund, Havan Stuff, Mango leaves and Khoya sweets etc. In the evening, the auspicious Muhurta worships the idol of Maa Lakshmi and Shree Ganesh ji in the form of Shodashopchar method. Laxmi ji is very much fond of lotus, so he must offer a lotus flower during worship. Also read: Diwali 2020: Adopt these tips of Vastu Shastra, Goddess Lakshmi will be blessed!
Tradition of taking blessings from fathers by burning sonlathi
According to this long-standing tradition, people go out in their homes with chants in many places on the night of Deepawali and burn the Sonlathi and drop its ashes on a tiraha near the house. It is believed that by doing this, fathers feel light for a year. Pleased with this, they always bless the light and prosperity of their living members.
Poorness is driven away at dawn
There is also a tradition of fleeing from homes on the next day of Deepawali i.e. Sunday dawn i.e. before sunrise. This tradition has been going on for centuries. Under this, on the night of Deepawali, housewives press old soup and a stick with a brick in the courtyard or balcony of the houses before going to sleep. On getting up at dawn, the stale mouth beat the soup with a stick, soaking the impoverishment inside the house, saying, the poor part comes out, Mata Lakshmi comes in, saying that she goes back to the nearest intersection of the house.