Madan Mohan Malaviya's Death Anniversary: ​​Pandit Madan Mohan Malaviya was the great man, know how the lesson was taught to the Nizam of Hyderabad and what remained in the life of Panditji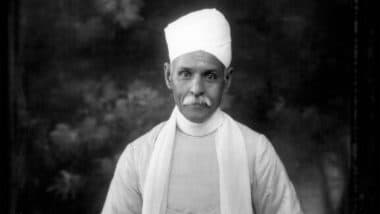 Madan Mohan Malaviya (Photo Credits: Twitter / Wikimedia)
Madan Mohan Malaviya's Death Anniversary: Banaras Hindu University (BHU) would be incomplete without mentioning Madan Mohan Malviya, because he had to chew a lot to build this university, he had to face disdain and insult. . Not only BHU, Panditji has done many other things in the field of education. Father of the Nation Mahatma Gandhi respected Panditji very much and gave the status of his elder brother. Panditji spent more than 50 years of his life fighting the British for the independence of the country. He participated in every movement and went to jail again and again. Sadly, he said goodbye to the world on November 12, 1946, just 9 months before seeing the picture of independent India. Today, the country is celebrating the 74th death anniversary of this great freedom fighter, journalist, lawyer and social reformer, Madan Mohan Malaviya. Presents some precious moments in his life.
Pt. Madan Mohan Malaviya was born on 25 December 1861 in Prayagraj (erstwhile Allahabad) to Pt. Brajnath and Moonadevi. He was the fifth son of the seven children of his parents. The father was a learned scholar of Sanskrit, and used his livelihood to narrate the story of Srimad Bhagwat He completed his studies at Muir College (Prayagraj) and subsequently from the University of Calcutta (Kolkata). For some time he worked as a teacher, but after that he became the editor of a newspaper. In the year 1915, Panditji established the Banaras Hindu University. He was also the founder of the Hindu Mahasabha at that time.
Also Read: Home Minister Amit Shah and Defense Minister Rajnath Singh pay tribute to former Prime Minister Atal Bihari Vajpayee, also pay homage to Pandit Madan Mohan Malaviya
'Satyamev Jayate' gets publicity
Panditji has also been very popular with the name 'M', that is, Maha Mana Madan Mohan Malaviya. The title of 'Maha Mana' was given to him by Mahatma Gandhi, who respected Panditji as much as his elder brother. It is said that Panditji made every effort to popularize 'Satyamev Jayate'. Which later became not only a national motto, but was also inscribed in the national emblem. However, when discussing this topic, he used to say that it is a sentence of the great scripture Upanishad written thousands of years ago in India. Which became the main goal of my life. It is to be known that in the Congress session of 1918, Panditji used 'Satyamev Jayate' for the first time. He was then the president of the Congress.
No chance of not seeing 'Azad Bharat'!
Panditji presided over several sessions of the Congress. He attended various Congress sessions in the years 1909, 1913, 1919 and 1932 as Congress President. He played a major role in 'Civil Disobedience' and 'Non-Cooperation Movement'. Panditji was determined about India's independence. He once said in strong words to Mahatma Gandhi that 'these Firangi must go now'. But he had also narrated his agony in very tight words, that I have been working with the Congress as an active worker for more than 50 years, it is very possible that I may not live long. Then I would take a heartfelt goodbye and say goodbye to the world that I could not see independent India. May it not be so! But perhaps Panditji had realized his death. Pandit Madan Mohan Malaviya died in Varanasi (Benaras) only 9 months before getting independence.
University dream in Kashi!
Panditji was born and raised in Prayagraj, but he has a special attachment and personal attachment to Banaras. He wanted to establish a world-class university in Benares. Although it was very expensive and difficult work. But Panditji also took this pledge. It is a different matter that they had to face relentless struggles for this. People had to bear the stigma and harassment. However, he also showed the way to many such people.
Lessons taught to the Nizam of Hyderabad!
Panditji traveled around the country hoping for help for the construction of BHU. In this connection, one day he reached the Nizam of Hyderabad. Panditji told the Nizam that he is building a university in Benaras, he is expected to cooperate. The Nizam not only denied his help by ridiculing him, but also said in very wicked words that he only has shoes to donate, take it away if you can. Panditji did not like the Nizam's talk, but he decided to teach him a lesson. He took up the Nizam's shoes with great humility, saying that the Nizam's shoes would get a good price by quitting in the market. The Nizam could not understand the deepness of Panditji's words, but some courtiers explained to the Nizam the intention of Panditji, that he will remove your name, not your shoes in the market.
Then the Nizam immediately called Panditji and withdrew the shoe and left with a big sum of money. For the construction of Banaras Hindu University, Panditji traveled from Peshawar to Kanyakumari and collected about 1 crore 64 lakh rupees. Some people also donated permanent property like land, well. It is said that in 1915, with the chanting of five lakh Gayatri Mantras, Bhumi Pujan of Banaras Hindu University was done, and immediately the work of building the university started. Today BHU is one of the best educational institutions in the world. Panditji was posthumously awarded the Bharat Ratna on 24 December 2015.