Diwali 2020: Make delicious prasad that serves good luck on Dhanteras, know what is the specialty of these dishes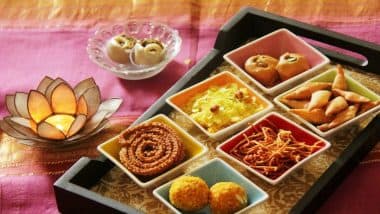 Photo credits: Facebook
Diwali 2020: If the roads are filled with colorful lights with a feeling of coolness in the weather, the shops are full of delicious and tasty sweets, and the family is seen enjoying the wonderful gifts everywhere, then you know that Mahavar Deepavali of Karthik month ( Diwali). Diwali is one of the major festivals celebrated across the country. It is basically a festival of emotions. Dhanteras is celebrated with full enthusiasm and gaiety all over India two days before Deepawali. However, due to the four-day Deepawali this time, Dhanteras is falling a day before Deepawali.
Idols of Goddess Lakshmi-Lord Ganesha of clay or metal are bought on Dhanteras, and they are worshiped in the traditional way in the evening. 'Dhanteras Puja' as the name itself suggests, is done to please and bless Lakshmi for wealth and prosperity. The specialty of some of the dishes of Dhanteras is that it is prepared as a symbol of good luck, because it is believed that these dishes are very dear to Mata Lakshmi as a Prasad.
Also Read: Diwali 2020 E-Invitation Messages in Hindi: Invite friends and relatives for Diwali celebration, send this love filled e-Invitation Card through WhatsApp, Facebook, Instagram, Twitter
In the evening in some parts of North and East India, whole wheat pudding is made and offered to Maa Lakshmi as a Prasad. This delicious pudding is made by baking it with butter and milk. In some parts of the country, there is a tradition of making lapsi mixed with coarsely ground wheat, pure ghee and sugar. As a symbol of longevity, this Prasad is very popular all over India.
In many regions of Maharashtra, molasses is offered as prasad by mixing jaggery in dry coriander, and in the evening, Panchamrit made of honey, milk, ghee, sugar and yogurt is offered to Lakshmi, later it is offered to other devotees. Is fed. On the day of Dhanteras, Laddu of favorite Bundi of Lord Shriganesh is also offered. Bakhir made of rice, milk and jaggery is also offered on this day. All these dishes are considered delicious as well as lucky.