Diwali 2020 Traditional Rangoli Designs: Make this special designs of Rangoli from Mata Lakshmi's 'feet' to 'auspiciousness' on this Mahaparva of Diwali, See Pics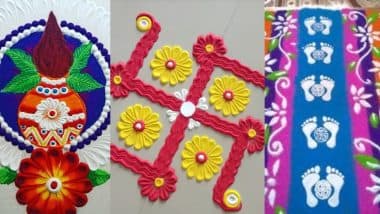 Diwali Rangoli (Photo Credits: File Image)
Diwali 2020 Traditional Rangoli Designs: Preparations for Diwali have started all over the country. From the cleanliness of the houses to the preparation of dish and dessert. Due to Corona epidemic this year, people will celebrate this festival of Diwali by staying at their home and following all the rules. This year Diwali will be celebrated on 14 November across the country. Diwali and Rangoli should not be possible. As soon as Diwali arrives, rangoli are made outside the house and houses. But do you all know the importance of Rangoli. Rangoli is not made only for auspiciousness, good luck, wealth and prosperity. Goddess Lakshmi is welcomed by making Rangoli on the day of Diwali. We are not only talking about Rangoli design. Today we will also tell you which Rangoli design makes Diwali auspiciousness increases.
Let us tell you some of the best Diwali Rangoli designs and patterns, ranging from designs ranging from Swastik and Chaukh to Maa Lakshmi's feet and auspicious benefits. Which makes this festival of Diwali more special. This festival is celebrated for 7 days from Dhanteras to Diwali. Auspicious Sarvaarthasiddhi, which is being made after 17 years, is falling in special yoga. Earlier, the special importance of making Rangoli on auspicious occasions like festivals, fasts, puja, celebrations, marriages etc. has been told. Rangoli is made with rice, flour or dried and natural colors. Also flowers are sometimes used. There are also many people who make Rangoli outside their house every day.
Also read: Diwali 2020: Dhanteras to start Panchamotsav, know 10 important things to be done on this day
But during the special festival, big designs are made. Rangoli design with footprints of Mata Lakshmi on the auspicious festival of Diwali is considered extremely lucky. Ranging from images of deities, swastikas, lotus flowers, various types of Rangoli with footprints of Goddess Lakshmi are made. On this special festival of Diwali, we have brought beautiful, easy and attractive designs for you. To decorate the house during this festival filled with light, you can make rangoli designs with many flowers including marigold. See other designs including auspicious-profit rangoli.
Auspicious-advantage rangoli designs: Auspicious and beneficial means prosperity, gives positive energy and happiness around you.
Swastika: It is believed that if you make the holy symbol of the swastika at the main entrance of the house, there is always happiness and prosperity in the house.
Laxmi ji's feet: Along with the swastika, the feet of Lakshmi ji are also said to be a symbol of wealth, auspiciousness and a symbol of positive energy.
Foursome Chowk or Chowk is a square, easy rangoli design that is often made to contain the sacred urn. It is like laying the foundation of positivity.
Dots Rangoli: Make this special Rangoli for Diwali celebration by adding colorful dots.
Before the arrival of Goddess Lakshmi and Lord Ganesha, the house has to be cleaned and decorated. Now the five-day Mahaparv Diwali is beginning with Dhanteras. On this day, buying new utensils, gold, silver jewelery, gold or silver coins is considered auspicious. It is believed that Lakshmi, the goddess of wealth, is always pleased by doing these ten works by worshiping on auspicious day on Dhanteras, and Yamraj has special grace.